Sola, to put it in the simplest terms, is a body massage wand without a handle. It has a bulb head and a vestigial stalk where a handle would be on a traditional wand. It even comes with attachments, just like a wand might have. Inside the head, you will find a rumbly motor, much like your average full-size massager. It's not as strong as a Doxy or Vibratex, but it is respectable. Sola also has the benefit of being both rechargeable and waterproof (the charging dock isn't, just the vibe).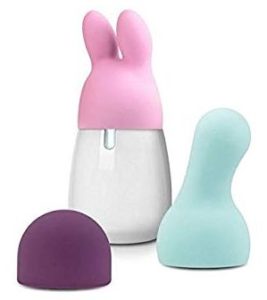 Now, here is what makes Sola unique. The power control is a pressure sensitive collar just under the head of the vibe. Press gently and it starts to purr. Press harder, Sola ramps up in response. You can use that pressure feedback to build your own patterns and go your own way. If you don't feel like playing, or your arms are just tired, push to get the power level you want and press the Lock key to keep that speed. Press again to release and go back into feedback mode.  For these controls alone, I am in love.  If that isn't enough (it is), you still have the convenience of a functional wand that fits in your hand.  A long handle is great for many things, but a smaller toy plays better between bodies, if you want to get a friend involved.  It also helps if you want something small enough to toss in a gym bag.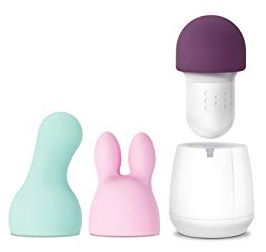 The kit we have on the shelves comes with a great array of value and variety. You have your base Sola, three unique attachment heads (all silicone), a charging dock, instructions, cords, wall adapter, and a satin bag to hold the lot if you don't want to keep the box. It's gift-worthy for presentation alone. Better still that everything has a purpose, no frills without function. For a perfect finishing touch, the whole package also comes with the confidence that only a five year manufacturer warranty can provide. As I said, Sola is all value, no filler.