Friday Focus: 12.04.20
Womanizer Liberty is, hands down, my favorite of the family. While most are already aware of the glory that is WOW Tech (Womanizer in all its forms), it never hurts to stop and acknowledge greatness.
Like all Womanizers, Liberty is not a suction toy, not in the strictest sense. In reality, WoW uses pulses of vacuum and pressure in conjunction to create the viciously effective stimulation that all of their line up are able to deliver. As there is no actual friction against the clitoral glans in the process, some people are able to experience prolonged or multiple orgasm that otherwise would not get either. Lack of direct friction on the skin goes a long way in avoiding post orgasmic sensitivity. Having been introduced to both those rides, when neither comes natural to me, I can promise this is not hyperbole. The bonus features also add to value and ease of care. A magnetic charge port, waterproof mechanism, and a company direct warranty are all welcome additions to any sensual device. All of this, however, is true of WOW in general and don't say why Liberty is my personal pick.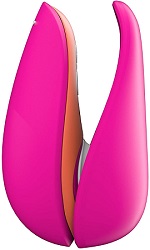 Size: Liberty is the perfect size to rest in the palm of your hand. No actual handle, no protrusions other than the silicone head, just a sleek lozenge-like shape. As there is very little moving to do, once a Womanizer is in place, that it is comfortable to hold and easy to keep a grip on is key. Storage and Travel: Liberty comes with a magnetic shell that snaps together to keep it clean and dust free. It is also very nondescript once closed, looking more like a earbud case than anything else. For me, though, knowing that it's not collecting dust and I can toss it in a bag knowing the buttons cannot be accidentally manipulated is the biggest draw. Settings: With six intensity settings, Liberty falls squarely in the middle of the WOW control spectrum. As I am 100% happy with larger jumps between power levels, but want some fine tune control, this is my sweet spot.
Now, thinking of the Lilly Allen Liberty specifically, it has one tiny little asset that I hope to see on more designs in the future. Rather than being slickly polished ABS, the outer shell has grip. Grip means easier to hold with lubed fingers and that is a simple but deeply valuable addition to any toy. The bright colors are, in my option, pure icing.