Friday Focus: 08.27.21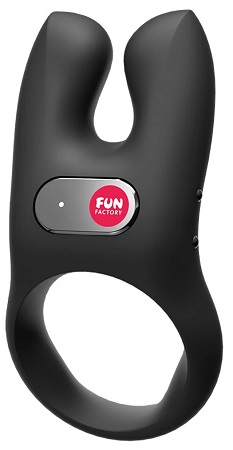 NŌS is, it is easy to see, is Fun Factory's answer to iconic the vibrating couple's ring. While it certainly does that, it offers a great deal more.
This device is a fully functional cockring rather than just a stretchy band with a buzzy bit. NŌS was specifically designed to constrict blood flow out of an erection and delay ejaculation. Fun Factory accomplished this, not only with the wide silicone band, but the shape of the band. The pair of raised nodes on the inside rim of the ring are carefully placed to not only secure NŌS in place, but are ideally placed for a but of phallic acupressure. If you look at other high end rings, you will see that placement over and over again as it's hard to redesign the best shape for a purpose. Do remember, however, that a true cockring is best used in small doses. Keeping sessions with NŌS under twenty minutes is strongly recommended.
Aside from it's full functionality as a cockring, NŌS also vibrates, complete with the rabbity projection often seen in couple's rings. I will admit some hesitation, wondering why anyone would put a vibrating prong (that is so seldom useful) on an otherwise amazing ring. Then I turned it on. How they managed to shove a full sized Fun Factory thump into a motor small enough to fit in NŌS is outside of my understanding. I do, however, appreciate it! Four speeds of almost G5 level punch are packed into this tiny ring. It offers four true speeds and a "flirt" setting that subtly varies speed as time goes on to keep the nerve endings guessing. Then you have your laundry list of uses. Even the literature departs from from the standard coitus that the shape suggests. For example, the packaging illustrates fellatio with "ears" down facing. Not only would that offer a heady vibe into the wearers balls, upside-down would put the pressure nubs out of place and drastically reduce constriction, allowing for climax. You will also see a diagram to suggest a handheld approach. Also of with a friend, that brings a host of possibility
That is a lot to take in, but it is a Fun Factory toy. Does it also offer dental grade silicone, an intuitive travel lock, rechargeable motor, and fully submersible construction like most of the Fun Fact stable? What about the five year manufacturer's warranty? Yes. Yes it does.