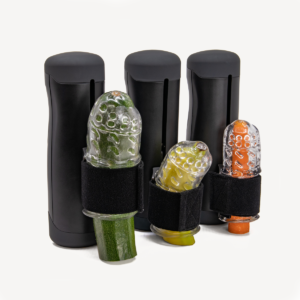 Ever since the dawn of the Fleshlight, penis owners have dreamed of giving their wrists a rest from the rigorous repetitive action of enjoying a masturbation sleeve for any great length of time. Auto-strokers are perhaps one of the most requested toys by our penis-owning customers, and admittedly, we haven't always been able to meet customer demand. Many auto-strokers are unwieldy, distractingly too loud, difficult to keep clean, and/or their performance falls short of pleasurable. Those few auto-stroking devices we have carried, we've had trouble keeping in stock, despite their higher price tag and shortcomings.
This year, a new design team in Norway changed the game, creating a powerful, Wi-Fi and Bluetooth compatible auto-stroker that's innovatively simple, relatively quiet, and easy to clean: the Handy. Not only does the Handy possess the sleek technology one might expect from an Apple device, it offers unique versatility by connecting the stroking mechanism to an external sleeve, allowing the user to swap in their own favorite masturbation sleeve. (And yes, I do believe they're currently working on a Fleshlight mount!)
Despite the Handy's quiet arrival in our stores late September, we nearly sold out in two months. But we just received another shipment this past week—just in time for last-minute gift-giving—or to keep yourself company as you bring in the New Year! Check it out!