We're excited to Feature CalExotics' new Silhouette Collection! CalExotics' team of all-women product developers have packed this beautiful collection full of features. All products in the Silhouette line are silicone, USB rechargeable, and waterproof. When CalExotics puts waterproof on the box they mean "submersible" not just "water resistant". The seamless silicone design of Silhouette prevents bacteria from growing, as it can in the creases and crevices of other toys. Silhouette toys also come with a travel lock. Not only does this keep them quiet in a suitcase, it also saves your charge until you actually need it. To insure your satisfaction, every style is covered by a one year warranty.
Because CalExotics appreciates the unique physiology of women, their initial release of the Silhouette Collection includes four different dual vaginal/clitoral massagers, the S15, S16, S17, and S19. The S15, S16, and S17 all possess a unique figure and come equipped with dual motors; one located in the tip and the other in the clitoral teaser. The S19 goes further by placing a third motor in the shaft with the option to control both the shaft and the teaser independent from each other.
The S9 and S10 flex bend for multi-directional positioning. You can customize these vibrators to fit the contours of your anatomy without putting strain on your wrist. The difference between the two are the size and shape of the bulb at the end, with the S10 being the larger of the two.
The S1 is a weighted, vibrating Kegel exerciser with an easy retrieval cord.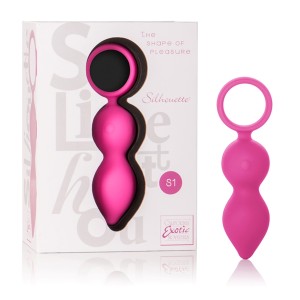 The S5 is a vibrating anal plug with a flared base and 5 patterns of vibration.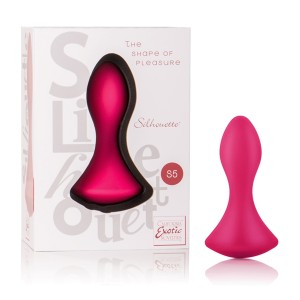 The S3's versatile design is distinct because it can be used as a massager or panty teaser. It's flexible in the middle which allows it to conform to your body without being rigid.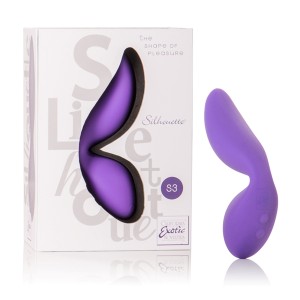 CalExotics' Silhouette line takes a winning combination of features and applies them to some of our favorite toy archetypes. Easily, my favorite feature is the ability to customize the speed and pattern of vibration, which allows the user to determine the overall pace of the experience, from a mild buzz to an intense roar. The sleek, sexy feel of the premium silicone is pleasing to the eye, pleasing to the touch, and makes for easy clean up. And the fact that they all have a similar aesthetic means you can mix and match any combination of toys and present them as the perfect gift.