One has to respect the raw masculine quality of the OxBalls catalog. In an age where it seems every toy manufacturer is attempting to flirt with mainstream acceptability, OxBalls approaches their product creation from the exact opposite direction, creating products that are both bold and unapologetic.
Geared towards penis owners, the good people at OxBalls have taken cock rings, anal plugs, dildos, and chastity devices in outrageous directions. Aside from taking classic toys to new extremes, they're also known for their product durability, quality materials, and continuous innovation, making them an ideal candidate for our June Fantasy Feature.
Two Color Sport Cockrings
Rather than our standard 15% discount, we're doing things a bit differently for this Feature. For every OxBalls purchase over $39, customers will receive a FREE 2-color Sport cock ring.
These Adidas inspired cock rings boast bold color raised stripes that ring the outside and they're rimmed with super-black silicone with "SPORT" embossed in the face. It is a clean design, sleek, well made and will not break. Pick colors that show off your game (or just match your jock, your socks, or your sneakers). Sport cockring is made of a firmer silicone and grips hard – it's tighter right where you want it so it will keep you rock hard and ready for any marathon.
 Ass-X Ass-Lock
Several years ago, OxBalls created a game-changing sex toy, the ass-lock. By combining a butt plug and cock ring into a single unit, it became possible to essentially top and bottom simultaneously, with gear that both tugs the testicles and plugs the ass. Later, Atomic Jock (an OxBalls brand) took the ass-lock a step further by incorporating their best-selling Unit-X sling (a sleeker version of the OxBalls Cocksling) and attaching a super comfy butt plug.
The Unit-X sling not only tugs your testicles, it grips your entire package in all the right places. The attached plug is about the thickness of two fat fingers, but soft, smooth, and flexible, allowing hours of comfortable use and wear. If you're new to bottoming, out of practice, or are looking for extra stimulation while topping, the Ass-X Ass-Lock is perfect for you!
Rosebud Plug
Rosebud is a pure silicone anal plug that's designed to "bloom" open once it's put in place.
The inner mouth of Rosebud is lined with raised ribbing that forces its flanges to stay open…even when it's tucked firmly away inside of its recipient.
To insert, simply fold Rosebud shut and slowly place it inside…as soon as the bulb shaped head is in place, the "petals" spring open and stretch from deep inside.
Demonic Dildo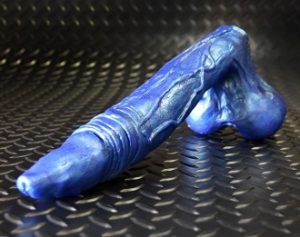 Oxballs created this demonic toy as a cocksheath for a movie in the works by the creators of Demonicsex, an erotic comic. Up close it looks real, with all the detail you'd expect on the devils own piece. Made of pure platinum silicone, this 14″ demoic dong is an amazing addition to any collection.