We heard from numerous customers, wanting kissable massage oils and body toppings to spice up their foreplay.  After sampling several products–not only for taste, but also for functionality, texture, and unwanted aftertastes (blech!)–we've added several new delicious products to our selection that we know you'll love as much as we do!  And they're all here for the holidays, to not only delight your lover's senses, but to let them know that the best gifts are those you can enjoy together.
Wicked Flavored Lubricants
Customers have requested Wicked lubricants by name.  Every once in a great while, a fantastic product slips past our purview and we find ourselves a little late to the party.  But being fashionably late won't stop us from livening up said party!  We're excited to offer some of the most delicious lubricants we've ever had the privilege of sampling and selling.  We selected four flavors from the Wicked line-up we think you'll like best, unique flavors that combine well together to create a holiday treat:  Candy Apple, Cinnamon Bun, Salted Caramel, and Vanilla Bean.  (As someone who's rarely thrilled by apple or cinnamon flavors alone, I can tell you that combining Candy Apple and Cinnamon Bun tastes like an irresistible apple pie.)
Why choose flavored lubricant over a kissable massage product?  Remember the most important difference between lubricants versus massage oils or creams:  lubricants are formulated for intimate and internal use; massage products are not.  So if you're looking for something to apply to those most intimate parts or to use with a condom, we recommend a flavored lubricant.  Wicked Flavored lubricants are long-lasting, latex-friendly, sugar-free, and won't become sticky like some other edible products.  Wicked water-based lubricants are also paraben-free and vegan, completely free of animal byproducts or testing!
Of course, there's plenty to explore before you breakout the lubricant when you want to enjoy an evening of foreplay.
Shunga "Sweet Snow" Body Powder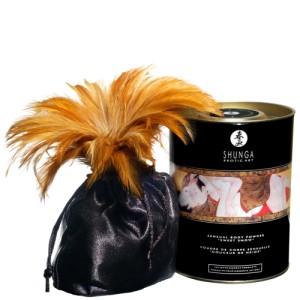 Many have heard of Kama Sutra's Honey Dust, but few have sampled it's competitor, an arguably more delicious powder by Shunga that turns your partner's body into the best kind of dessert.  Don't want to fuss with liquids, oils, or gels?  Sweet Snow also has natural drying properties.  Sprinkle and brush this delectable powder all over their erogenous zones, tickle them with a feather (included), and indulge.  Available in honey or strawberry flavors.
Shunga Kissable Massage Creams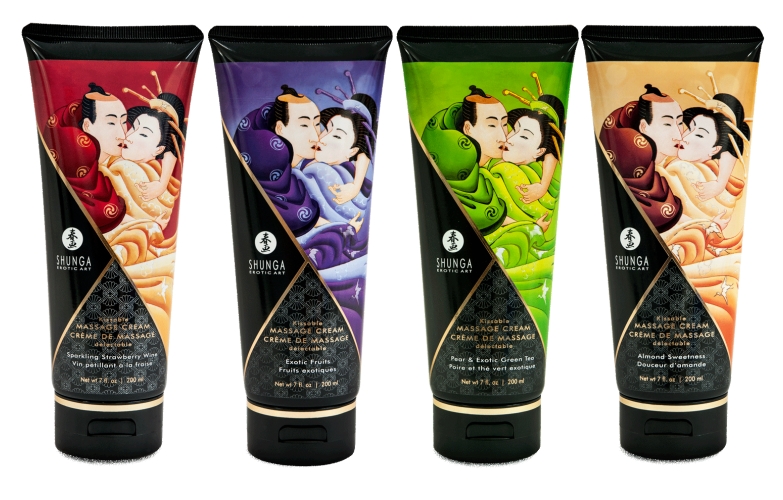 Massage is often one of the best ways to relax your partner before kissing and licking their naked parts.  Kissable massage products offer the best of both worlds, so you can start with your hands, then follow up with sensuous kisses.  Shunga has taken kissable massage creams to the next level.  No longer do you need to dip your fingers into a little jar to apply massage cream to your lover's body–and no longer do you need to suffer the stickiness and weird aftertaste of other kissable massage products. Shunga's Kissable Massage Creams now come in flip-top squeeze tubes for easy application, and after a gentle massage, leave your lover's body silky and tantalizingly sweet to both smell and taste.  With four delicious flavors from which to choose–Almond Sweetness, Exotic Fruits, Pear & Exotic Green Tea, and Sparkling Strawberry Wine–you're sure to find the perfect stocking stuffer or addition to a carefully selected gift basket.
 Sensuva "Sizzle Lips" Warming Edible Gels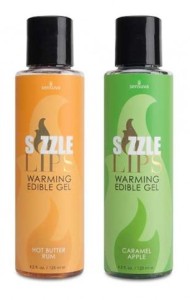 On cold winter nights, sometimes you want more than the warmth of your lover's hands and lips–and let's face it, blankets, while cozy, can get in the way of a good time.  Thankfully, we offer several products to help turn up the heat as you're slipping off clothes and bed covers.  Sizzle Lips, an edible warming gel by Sensuva, transforms your breath, touch, and kiss into the warmth of your desire–and the more you rub it in, the more you kick up the heat! Massage Sizzle Lips into a small area of the body, blow on it to activate the warmth, then kiss and lick it off.  Because this great-tasting, glycerin-based gel has no after-taste, you'll happily spend all the time your partner needs to get into the mood.  We currently have Sizzle Lips into two perfect flavors to warm those winter nights: Caramel Apple and Hot Butter Rum.
Sensuous Deluxe Body Chocolate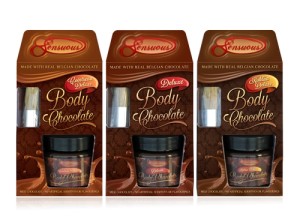 The days of chalky (not-so-) sexy chocolate are over!  Sensuous Deluxe Body Chocolates use a delicious Belgian chocolate recipe that's decadently rich and smooth, the way chocolate should be, made only with natural ingredients, no artificial colors or flavorings.  Yes, that means it contains real sugar, so although it's undeniably the real deal, it's intended for external use.  But isn't that what decadence is all about–enjoying ever part of the sensual experience, from foreplay to finish?  Available in three irresistible flavors (availability may differ by store)–Milk Chocolate, Cointreau, and Kahlua–these chocolate body paints come with a beautiful, supple brush so that you and your partner can let your artistic imagination run wild, and enjoy every delicious moment together.
Sensuous "Sweet Touch" Kissable Massage Oils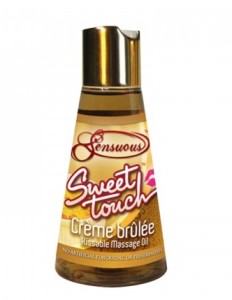 Enjoy all your favorite sensations during foreplay–massage, scent, taste, and warmth–with Sensuous' Sweet Touch™ Kissable Massage Oils.  Silky smooth and irresistibly kissable, these alluring massage oils release a tingling warmth and sultry aroma when you blow gently on them, delighting both your senses as well as those of your partner.  We also passed on the strawberry and raspberry to bring you flavors unlike any you've found before:  Blueberry & White Chocolate, Irish Cream, Tiramisu, and (one of my favorites) Crème Brulée.  Though we don't recommend any massage oil for internal use, Sweet Touch massage oils are also hypoallergenic and latex safe, so a little mingling when romance leads to passion won't ruin the moment.  Sweet Touch massage oils are also water-based and rinse away easily.  Containing no artificial flavorings or preservatives, these kissable massage oils are truly a treat.