Whether first introducing bondage to the bedroom or treating a devoted partner to a new leash and collar, no one can deny the comfort, durability, and eroticism of quality leather bondage gear. Leather warms to the body and wears like a second skin—sleek, strong, and flexible. Our stores showcase an array of leather collars, leashes, restraints, and other gear because we know leather is worth the investment.
Most of the leather gear we showcase is U.S. made and ships from a San Francisco-based vendor with whom we've done business for many years. But we always keep a look out for what's new or different, to keep our selection fresh and up the ante for those bondage and fetish enthusiasts who come to us in support of their local adult store. Last fall, we had the fortune of discovering a leather worker based right here in Portland, who approached us with an interest in selling his handmade gear at our stores.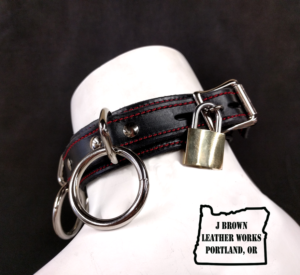 Not only were we excited about the prospect of offering our customers locally made bondage gear, leather worker Joe Brown wowed us with his craftsmanship and the quality of his materials. All J Brown Leather Works Dungeon Gear is made from either Latigo or bridle leather, both of which are rigid, durable but pliable leathers. Compare a J Brown Leather collar to one of the many other collars we sell, and you'll note the difference in thickness. But the quality of his work goes beyond Joe Brown's choice of leather; the hardware and beautiful stitching of every piece add to its solid construction. Every J Brown Leather Works collar or cuff equipped with a locking buckle also comes with a padlock, so you don't have to buy locks separately.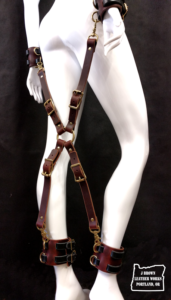 Quality materials and superior craftsmanship weren't our only reasons for adding J Brown Leather Works to our selection. Joe Brown also has an eye for color and design. Many of his locking collars and restraints are stitched with bold color accents, some with matching leashes or connectors. (Note: colors available vary by store location.) One of his most eye-catching cuff designs weaves two leather straps through each cuff. The black and burgundy leathers, accented by bronze hardware, marries fashion and functionality to create an aesthetic that's both rustic and elegant, sturdy and sexy. Combined with an adjustable hog-tie (currently available at our Downtown Portland and Hollywood stores), your lover will be begging for photographs while bound in this sumptuous gear!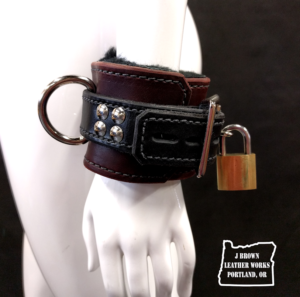 Love the look of leather, but prefer something softer wrapped around those delicate wrists? Our Downtown Portland and Hollywood stores also carry sheep skin lined restraints, for the most luxurious look and feel when bound. Because each piece is unique and handmade, our selection of J Brown Leather Works Dungeon Gear varies by store location and we don't carry back stock. But we hope our customers will discover and love J Brown Leather as much as we do! The more we sell, the more we can offer in the future. Interested in a particular color combination or design? Tell us, and we'll see if Joe can make it for you! Patience pays off when selecting the perfect gift for your submissive partner, and what better to shop local than to buy locally handmade bondage gear from your local adult Fantasy store.