For the month of November we've selected Tantus, the progenitor of silicone toys, and Earthly Body, hemp innovator extraordinaire, as our dual Fantasy Features.

Walk into Fantasy (or any worthwhile adult retailer for that matter) and it won't take long to find the high end toy display. The toys behind the locked cases come in many shapes, sizes, and are equipped with a myriad of functions, but the most common trait among them is they're comprised of silicone.
Prior to 1997 you needed to be an 'in the know' feminist in the big city to know the benefits of silicone, or the health risks associated with the jelly toys of that era. At the time, Metis Black saw the market flooded with toys comprised of PVC and toxic phthalates – hazardous to the human body. Knowing the sexual health and eco-friendly benefits of high grade silicone, Metis created Tantus Inc. as a superior quality alternative. Proselytizing her 'Ultra-Premium Silicone' to the industry and educating the world on the health risks of PVC, Metis championed her cause by assuming the role of sexual educator on top of Tantus president.
Changing the buying habits of the mainstream market didn't happen overnight, but 18 years later, even a cursory glance at the industry giants of today (Vixen, LELO, Fun Factory) will prove the impact of silicone on sex toys, and that's largely due to Tantus' stern commitment to innovation, education, and sexual wellness.

Earthly Body dates back to 1996 when Kevin and Mare Wachs began creating personal care products out of their garage. As you would expect from a name like Earthly body, they use only natural ingredients – no mineral oil, dyes, sulfates, propylene glycol, phthalates or parabens. All of their products are 100% vegan and cruelty-free. Earthly Body is also one of the preeminent manufacturers of hemp-based body and skin care, and uses organic hemp seed oil in all of their products.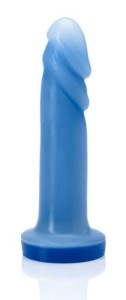 The Flurry O2 is an anatomically targeted product made specifically to stimulate the G-spot. With a maximum diameter of 1.5", Flurry's tapered shape is great for harness play. Tantus' Dual Density O2 line is designed to feel realistic, featuring a super soft outside and a hard muscle core – both made of Tantus' own unique formula of 100% Ultra-Premium Silicone.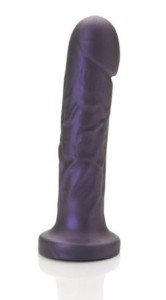 The Goliath is the answer for those that crave both size and quality. Its 1-3/4″ girth assures that you'll feel all of its realistic ridges, and its 7-1/4″ length gives you more than plenty to play with.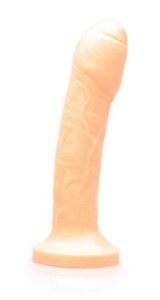 Part of Tantus' Dual Density O2 line, the Uncut features a super soft outer layer and a firm inner core for a little give and a lot of get.
Together with detailed skin texture, pores, veins, and wrinkles, the Uncut looks and feels remarkably real. It's all about that foreskin!
T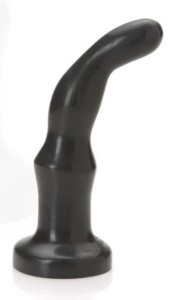 he ultimate come-hither accessory. Sex educators teach that inserting a finger and curling in a "come-hither" motion will stimulate the G-spot or prostate. The ProTouch is the first toy designed to both reach deeper and touch at just the right angle, and comes with a mini-massager for clit or external prostate stimulation.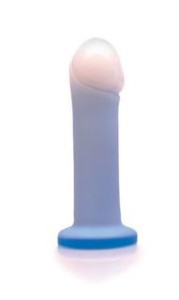 The Duchess turns a simple pleasure into a luxurious indulgence with a waterproof removable bullet vibrator and a base that is both suction cup and harness compatible. A wide, Super Soft head is perfect for a fulfilling G-Spot or P-Spot experience. Magnificent for Harness & Solo Play.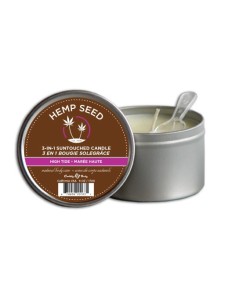 3 in 1 massage candles melt down into a massage oil with a unique blend of six natural oils providing a professional slip that moisturizes skin, leaving it appear more healthy and hydrated with a youthful looking glow. Experience this "liquid gold" by pouring it directly onto the body for a warm massage, or in place of your daily moisturizer!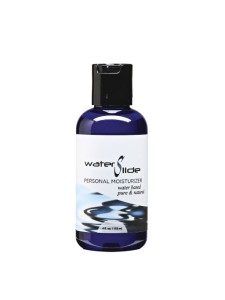 WaterSlide is the simplest, purest lubricant you can find — just four ingredients and one of them is water! For women who are very sensitive, there's not a whole lot here to have a reaction to. The Facts: Water-based, non-toxic, non-staining, odorless, and vegan. WaterSlide features natural carrageenan extract (from red algae seaweed), no silicones, petroleums, parabens, sticky glycerins or preservatives.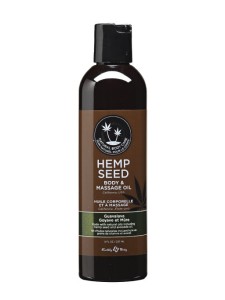 A 100% natural blend of essential oils (including hemp, almond, grape seed, apricot and vitamin E) provides a slick, professional glide. Better yet, this nutrient-rich formula absorbs into the skin for deep conditioning and moisturizing without a greasy residue. Whether you choose unscented or one of our exotic fragrances, you won't need (or want) to wash it off.