Touko Laaksonen, aka Tom of Finland, was a Finnish artist notable for his stylized homoerotic fetish art and his influence on late twentieth century gay culture. XR Brands, in conjunction with the Tom of Finland brand, released this exclusive line of erotic toys, based on the iconic images of this pop culture creator.
These products, much like Touko's work, are bold and expressive. Here are a few notable selections to give you an idea of what to expect.
Weighted Barrel Nipple Clamps
This heavy duty set of barrel style nipple clamps are adjustable, with a removable 4 ounce weight attached to each clamp. Rubber tipped and fully adjustable, these clamps are designed for those who are serious about their nipple play.
3 Piece Cock Nuts
These masculine cock rings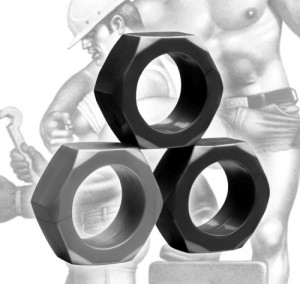 can be used in a variety of ways: As a cock ring, ball stretcher, or a combination of the two. Increase sensitivity, stay hard longer, and look damn good doing it.
XXL Silicone Anal Plug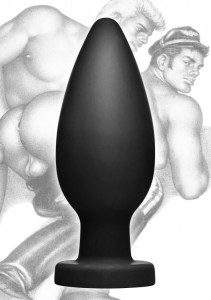 With 2.5 inched of girth, and 6 inches of length, this plug, much like the entire collection, is not meant for newcomers. Made from seamless silicone, with a suction base on the bottom, this toy is perfect for solo play or with a friend.
We have multiple products from the Tom of Finland collection available at our Hollywood District location. Feel free to stop by and see the collection in all its glory!
[ngg_images gallery_ids="14″ display_type="photocrati-nextgen_basic_imagebrowser"]