After receiving a few requests and weighing options, Fantasy is now proud to offer high-end vegan bondage gear. In fact, we now have not one but TWO vegan options for bondage enthusiasts seeking cruelty-free products. Both options are made by Stockroom, a trusted name in BDSM gear.
Vondage
Designed for the discriminating vegan, Stockroom's Vondage microfiber material has the sensual feeling of leather, but is completely free of animal products. You'll love how soft and supple, yet sturdy Vondage bondage gear secures you or your submissive partner, while knowing no animals were harmed in their making. The microfiber can be cleaned with  a damp wash cloth and hand soap, then let to dry completely. Like leather products, it should not be exposed to excessive heat (including direct sunlight). Matching Vondage collar, wrist and ankle restraints are now available at our Hollywood, Downtown Portland, and Tigard locations. If you like the material but want to see more vegan options, let us know. We're also happy to special order products for you!
Silicone
Of course, you can opt out of leather and leather-like materials entirely if you want to avoid animal products, and Stockroom has upped their game with gorgeous, basic but classic silicone bondage gear.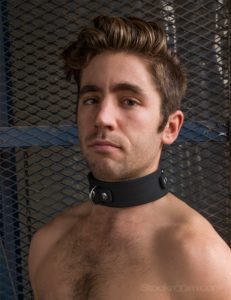 Thicker than traditional leather bondage gear, Stockroom's silicone collar, wrist and ankle restraints are nonetheless smooth and supple. Like all silicone, the material warms to body temperature. Silicone also has the advantage of being allergy free for those with skin sensitivities. Though a little more expensive than the Vondage line, Stockroom's silicone bondage gear is well worth the upgrade for those who want something more rugged and easy to clean, and is now available at all our Portland locations.