Blush Novelties is one of the more prolific companies in the adult retail community. If a toy type exists, Blush likely has a quality model in production, or already available to kinky denizens of the world. Granted, if we were to carry the entire Blush catalog it would fill up every inch of our sales floor, so for the sake of variety we've cherry picked only of the best of what Blush has to offer, and because it's part of our Fantasy Feature, we're offering it for 15% off its retail price.
ARIA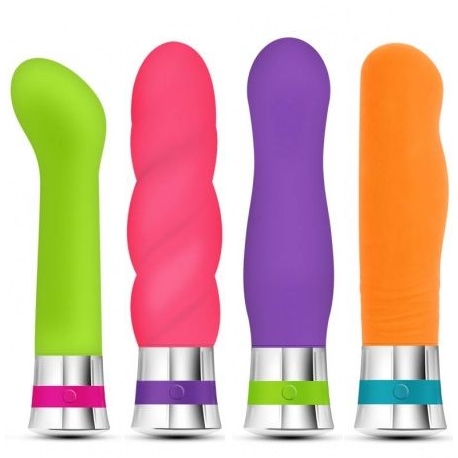 The Aria toy line embarks in a new direction when compared to previous Blush releases. In terms of functionality, feel, and style, all the Aria toys share some commonalities. Each Aria is equipped with 10 vibrating functions, and rather than opt for a light tingling sensation, Blush went for the deep rumbling vibrations you would expect from a heavier toy. The smooth, satin feel of the silicone play area is heaven on bare skin. They're each waterproof, allowing for underwater playtime and ease in cleaning. Aria toys are AAA battery operated, which allows Blush to keep a lower price point without sacrificing any functionality. Overall, these toys impress sex toy newcomers and veterans alike.
Rose Revitalize Massage Kits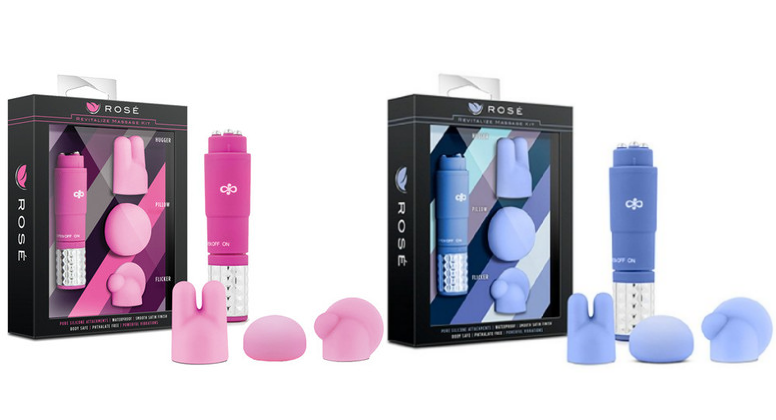 Rose Revitalize Massage Kit are multi-purpose massage kits, designed to be used for general relaxation as well as sexy-time relaxation. Without the attachments, the three point tips provide precise vibration to areas of tension, such as your temples, neck, or shoulders. By affixing the silicone attachments, there are specific effects that provide a wholly different form of stress relief.
• Hugger – This soft attachment looks like bunny ears and is intended to lightly grasp nipples or the clitoris, simultaneously applying light pressure and stimulation to both sides of the target area.
• Pillow – This soft attachment covers the widest surface area out of the three, and is intended to give broad stimulation as opposed to pinpoint pleasure, which can be a bit overwhelming for some.
• Flicker – This specialized attachment is mostly intended for clitoral stimulation. The thin material transmits vibration well, causing a fast vibrating flicking motion to occur. When applied lightly to the clitoris, it can be a great way to tease out a session rather than race to the finish.
Luxe Arielle
The Luxe Arielle is made of satin soft premium silicone, ergonomically contoured to mimic the natural body curvature. This dual vibe features two points of orgasmic stimulation, and due to its flexibility, it can be utilized many different ways. The longer appendage is ideal for vaginal insertion, while the smaller end is either placed over the clitoris for hands free stimulation, or inserted anally for double penetration. The Arielle can also be inserted anally with the shorter end resting against the clitoris. It can be placed around the hand for vibrating manual stimulation of a penis or a vagina, or used in conjunction with all manner of partnered play.
As always, our Fantasy Feature items are 15% off, and with Blush already a very competitive price point, now is the time to stop by Fantasy and update your toy chest.