Classic Erotica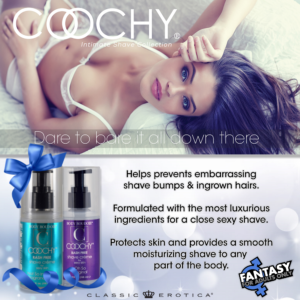 Just in time for our favorite gift-giving holidays, we've expanded our sensual body care selection from Classic Erotica, the company well-known for Coochy Shave Créme. Not only have we added the must-have After Shave Protection Mist from their Body Boudoir line-up (the all-natural essential oils not only protect your skin, they smell ah-MAZE-ing!)—we've also added new products from their Crazy Girl and Max 4 Men lines. Classic Erotica also recently acquired the much-loved company, Jelique, updating formulas to remove parabens and offer new products we know you'll love!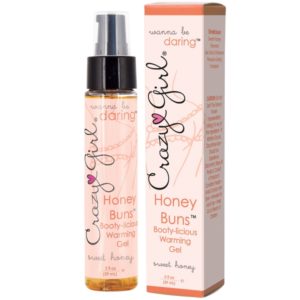 Our customers are crazy about Crazy Girl! So it was a no-brainer to add the delicious new Sugar Bomb scent to our selection of pheromone-infused soy massage candles, body lotions, and body mists. We also added unique products for the more adventurous: Honey Buns Booty-licious Warming Gel (it tastes like honey but is sugar-free and body-safe!) and Tushy Relaxing Gel, to help the bold ease their way into anal play. New to Crazy Girl? We recommend the kissable but explosively delightful Cherry Bomb Arousal Cream.
Classic Erotica offers the Max 4 Men line for those with more masculine sensibilities. Max Attract Hypnotic and Renegade pheromone colognes offer two uniquely alluring scents; wear Renegade during the day and Hypnotic to the club at night! The Max 4 Men collection also offers its own Max Relax Calming Anal Gel and the Max Excite Stimulating Anal Gel, for those who want to enhance sensation while bottoming. All Classic Erotica products made for him are also formulated to be body-safe for her.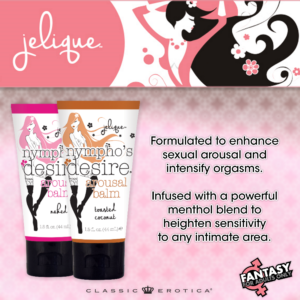 You may know Jelique's best-selling pheromone unisex perfume oil, Pure Instinct, that comes in a little blue bottle. Classic Erotica expanded the Pure Instinct name to include a Pure Instinct Lotion and two new pheromone-infused sex attractants, the Pure Instinct Man Cologne and Pure Instinct Woman Perfume. But my favorite Jelique addition took me by surprise, perhaps because of my weakness for toasted coconut. Nympho's Desire Arousal Balm—available in naked and toasted coconut—deliciously heightens sensitivity wherever you put it. I find the cooling coconut and menthol blend exquisite!

Kheper Games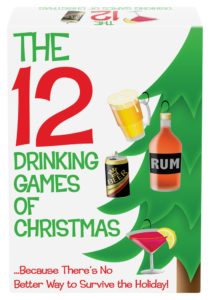 We've got more than one way to turn up the romance with your significant other. For the month of December, Fantasy is also Featuring a diverse selection of games and novelties from Kheper Games, a Seattle-based company. Whether you want to explore new positions and activities with Sex Around the World or foretell your lover's intimate future with the new Sex Fortunes tarot deck, we've got gift-able games for everyone. My favorite? Stuff your lover's stocking with Checks for Lovers, a deck of the ever popular Sex card game (gay, lesbian, and Spanish-speaking versions all available)—or skip the foreplay with Let's F*ck! dice. Have a houseful of family for the holiday? There's no reason you can't re-stuff those stockings after the guests depart. (Grin)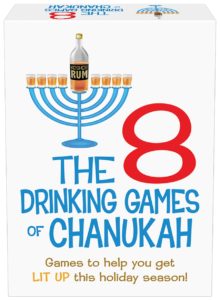 Of course, 'tis the season not only for romance, but also for intoxication! Whether post-holiday family visits call for drinking, you drink with your family (rum in your eggnog, anyone?), or you wait until New Years Eve to drink champagne—what better excuse to drink more beer and bubbly than with friends while playing games?! And if someone rolls their eyes and says, "Oh god, not beer pong…", you can say, "Nope! These Drinking Games come in a box with instructions!" (Oh, and for the record, if you're following tradition, the 12 Days of Christmas only just starts on Christmas—and Chanukah starts on the 25th this year—so both of the herein pictured drinking games are 100% valid for your New Years Eve festivities!)