In recognition of National Breast Cancer Awareness Month, we've partnered with Shibari Wands and System JO to raise money for the Breast Cancer Research Foundation. For every Shibari or System JO product purchased during the month of October, Fantasy and our vendor partners will donate a total of $0.50 to $2—with a guaranteed minimum donation of $200 each ($400 total). Our goal is, of course, to exceed that donation, with your help!
Shibari Wands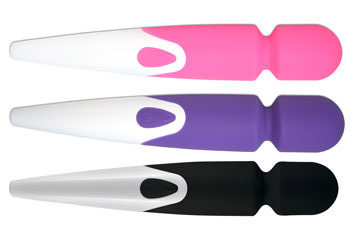 Shibari offers an array of powerful yet affordable wands, so we're going to highlight just a few favorites. Sleek, strong, and waterproof, the Halo has a lot going for it right out of the gate. While there are a few massage wands with a bit more top-end power, Halo easily makes up for that with it's (drastically) lower volume, extra patterns of pulse, and no cord to limit mobility. The controls are so simple (On/Off and Scroll Function) that they can be manipulated no matter the "duress" of the user. Powering up, you will find two speeds and multiple patterns of pulse to cycle through at your leisure. Clean up is laughably simple as well. Since Halo is covered by a seamless silicone skin, there are no dips, seams, or undercuts to harbor bacteria. The seamless exterior also renders Halo waterproof, so you can wash it in the sink without a thought (or have company in the shower or hot tub if you so choose). Top it off with a rechargeable motor and a one year, paper-free manufacturer's warranty (no need to keep box or receipt), and you have the whole Halo story.  It's easy to see why this brand is so well loved.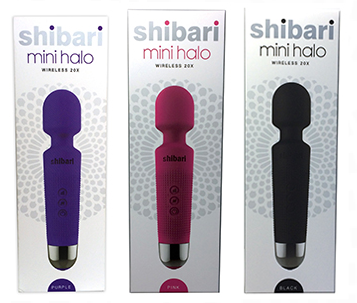 The Mini Halo—first up, how cute is this thing? Because looks aren't enough, it has all the punch of a full-sized wand packed into its adorable travel-sized body. Stepping it up a bit from the original Halo, both pattern and speed are controlled independently, with a three-button system. This allows the user to mix it up and experiment to find the perfect combination of both pattern and intensity. Also worthy of note, the speed is on a reversing loop, so there are no jarring transitions for the user.
The original Halo wand is a beast, but Shibari made one BIGGER, the MEGA Wand. While it isn't more powerful on the top-end, it covers a larger surface area, with a wider handle, making it easier for some to grip and hold. Like the Mini Halo, the Mega has independent speed and pattern control and escalating/descending speeds.
System JO



System JO continues to be our best-selling lubricant. Not only does System JO offer a wide selection of nearly every variety and viscosity imaginable, they also do their research to produce some of the best quality, body-safe lubricants available.

As with all Shibari products, all System JO lubricants purchased during October will contribute to the Breast Cancer Research Foundation. But we'd like to highlight one of our most highly recommended lubricants for women seeking a body-safe water-based formula. JO Agapé (pronounced ah-gah-pay) is designed to mimic a woman's natural lubrication without the use of glycerin, glycol, or parabens. The incredibly light formula provides a delicate glide that feels silky smooth. As with all System JO water-based lubricants, JO Agapé is of course toy-friendly, compatible with most materials (including your new silicone Shibari Mini Halo!)—and best of all, it's easy to clean. Of course, System JO also offers silicone and hybrid lubricants, lubricants with a thicker viscosity, delicious new Gelato Flavor lubricants (Hazelnut Espresso is a personal favorite), and a new FDA Certified Organic formula, made with chamomile and agave extracts. Our sales associates are always happy to provide recommendations, whatever your lubricant needs and preferences!