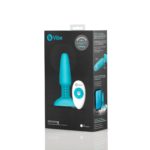 When I learned someone had designed a butt plug with "rimming" beads, I knew Fantasy For Adults Only needed to carry it, for the sake of our anal enthusiasts if not the novelty alone. Rotating beads are no longer exclusive to dual-stimulating rabbits. No, ladies and gentlemen, beads have become equal opportunity and now offer unique stimulation where too many tongues fear to go: the sphincter muscle. Never will out nether regions be the same again.
Many think of the sphincter as that clenching muscle that can sometimes make anal insertion a challenge. But as any well-practiced backdoor player can tell you, one of the best warm-ups to relax and open one's pleasure centers (uncoiling the Kundalini, if you will) is to gently massage the soft, sensitive area around the anus. The tongue can do wonders, but so can careful well-clipped fingers or your favorite rumbly toy. Spit or lubricant help of course, depending on your method. Relaxing the sphincter not only makes anal play easier, it makes everything downstairs come alive and more receptive to stimulation–and ultimately, orgasm. Just imagine a plug that can do all this for you, while your mouth and fingers explore elsewhere!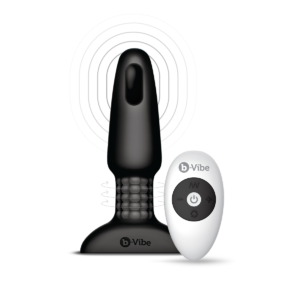 But b-Vibe, a small new company powered by industry experience, is far more than novelty. As if the rimming plug concept isn't awesome enough, the designers of this masterpiece brought out all the bells and whistles. The tip of the Rimming Plug also includes a powerful motor with 5 intensity levels and 6 vibration patterns. As one expects from a high end toy, the two powerful motors are coated in soft, seamless silicone, available in two colors–black (of course) but also a beautiful teal blue. USB rechargeable and waterproof, of course. Travel lock, thank you! But that's not all. The two motors are also remote controlled. What?! Yes! A vibrating, rimming plug you can wear, hands free–and if you so desire, let someone else take control. Oh, and did I mention that the Rimming Plug comes with it's own stylish, discreet travel and storage case?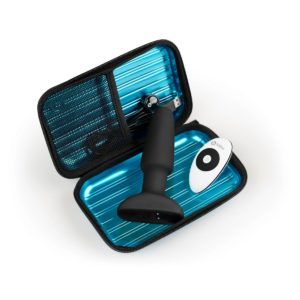 This plug has a lot going on so, yes, it is a little girthy. Beginners be warned, you probably want to start with a smaller toy. (Incidentally, b-Vibe is launching a smaller plug this fall that doesn't rim but may be the most powerful plug I've ever held in my knowledgeable hands.) That said, I love how equal opportunity this plug presents itself. The packaging is nothing but classy and non-gendered, perfect for couples as well as the most experienced users looking for an experience unlike any other. Or maybe you've always wanted the perfect remote butt plug to add to your Dom/sub repertoire? Look no further.
The b-Vibe Rimming Plug is here!