Friday Focus: 10.23.20
Certainly, it is no surprise that any product from We-Vibe would be well crafted. In this, the We-Vibe Wand is very typical. However, that is probably the only typical thing about it.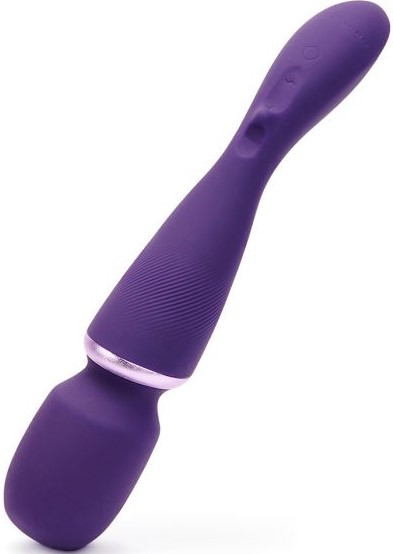 Starting with basic construction, my eye is drawn first to the curve of the handle. While the line is elegant, the subtle redirect of force is what holds my attention. This is especially valuable for people with limited mobility or larger bodies as a curved form will be easier to direct where you want it to go. My next stop would have to be the "standard size" head. Not only does it come with a pair of attachments as part of the package, anything that fits a Magic Wand (which is most all of them) will also pop on. Do ignore the gendered suggestions for the attachments that are included, though. Both shapes have many applications to offer to any type of body. The full silicone skin that covers Wand not only expands potential play area, is also grants waterproof status, making Wand a nice addition to a relaxing soak in the bath. Even controls are fully enveloped by silicone (an easy to manipulate toggle instead of buttons as another boon for hands with limited mobility). As an extra special bonus, Wand will warn you when its charge is running low! The fact that it is rechargeable and under manufacturer warranty are so very We-Vibe I almost forgot to mention them when I wrote this up.
Now that we know how it is built, what does it do? Wand begins with the ability to control pattern and intensity separately. To me, that feature makes or breaks the deal. What is more, while I am not a fan of patterns for genital toys, I love them for muscle pain. As this device is perfectly suited to double for traditional massage, that dual control is doubly valuable. Also convenient is the "Smart Silence" mode that tells Wand when it is no longer touching skin so it can turn off. Smart Silence will maximize your battery life and provide an insta-off option for the moment the food delivery guy taps on your door. In another move that is typical of We-Vibe, but almost unheard of in the world, Wand can be linked up for app control. Build your own pattern for personal gratification or tie it to your partner for some next level (hands-free!) forced orgasm scenes. This world is yours to explore however you desire.