How good of a time can you have on a budget? Blush Novelties has that answer. I am still in awe at how they have grown as a company, moving from only the simplest of staples to having a bit of something for most niches on our walls. Still, my heart belongs to function in simplicity. In this specific instance, I wish to sing the song of Limited Addiction mini vibes. There are a good many high power mini vibes on the market, but this line was the first thing in mind when asked what Blush toy I wanted to natter on about. Remember, simplicity and function.
For simplicity, I would draw your attention to the clean line of Addiction's ABS body. It is a sonnet to the best of this genre over the years. the shape isn't original, but it is very functional. A straight-sided missile shape with a neatly edged bevel at the tip and a pocket-able size. No matter what type of external stimulation a body enjoys, almost all can be provided. Wide, long, edged, or pin-point the surface is here. there is a reason this shape has become iconic. It's small enough to fit into some toys that take a removable bullet and still fits well in the hand. The silicone button for power and cycle is right on the end were most hands can reach it with one thumb.
When it comes to function, Limited Addiction does only one thing and does it well. The rumble of this motor is emphatic with a low pitched purr. A purr that is persuasive enough to win a place in my personal collection. The patterns don't excite me, but I am not that person. The five speeds, however are enough all on their own. The low isn't that low, so, keep that in mind if your bits are on the side of delicate. The noise level is low, a soothing rumble that sinks invisibly into any background noise I have put it against. Better still are the controls. Limited Addiction is one of the few vibrators in this class and size that has both positive and negative sides to the power button, allowing for two way scrolling through the programmed selection of five speeds and five patterns of pulse. Missed your favorite stop? You can back up without a thought.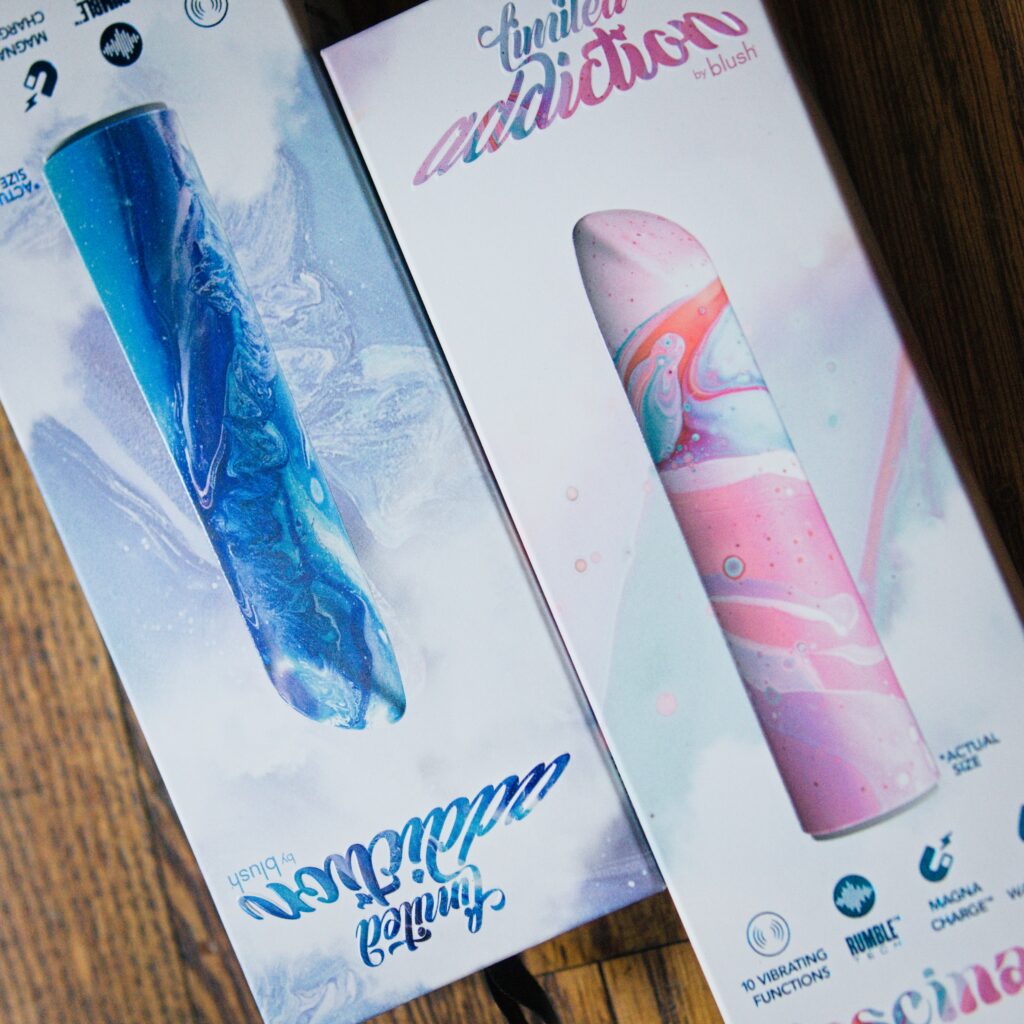 Then there are the bonus bits. With a IPX7 waterproof rating, this tool can join you in the shower or tub without worry. The charge cord connects with a simple magnetic click. They also come with a 90 day warranty, just in case. Simple, solid, easy to use, this is more than enough to win my recommendation. Similar traits have won me over before. What truly sets this line apart is the looks. Each one is a riotous oil-slick of color. Not just jewel tones, but a melting pallet of hues that captured my attention faster than any promise of 50 minutes of play time off a single charge.
People joke all the time that looks don't matter in a sex device. I say, if it's going to be in bed with me, it may as well be beautiful.