The observant may have noticed a recent addition to our carefully selected product mix. Specifically, I speak of the Niya series, a new offshoot from the renowned workshop of Rocks Off. Though for me they will always be defined by the earth-shattering Rock Chick, Rocks Off has delighted me many times in the last two decades. Several of Niya's shapes stand out with that same kind of potential. Today, however, I am going to limit myself to only one, the captivating N2.
N2's potential begins with a standard and blessedly simple travel lock. Press and hold until you are rewarded with one jolt of the motor, and the game has begun. I am notoriously picky about the quality and nature of vibration, so we will get to that first. In cycling through the ten steps of vibration, I was very well pleased. N2 is ready to throw down with Chiamo when it comes to depth and bass notes. In addition to providing a substantial rumble, the translation of that power through the toy is remarkably well balanced. Both the smooth posterior and lightly scalloped anterior sides get an even split of that thunder. The handle end is more muted, so it isn't truly dual sided, but it also won't numb anyone's fingers. The overall function is capped off with a one year manufacturer's warranty on the rechargeable motor.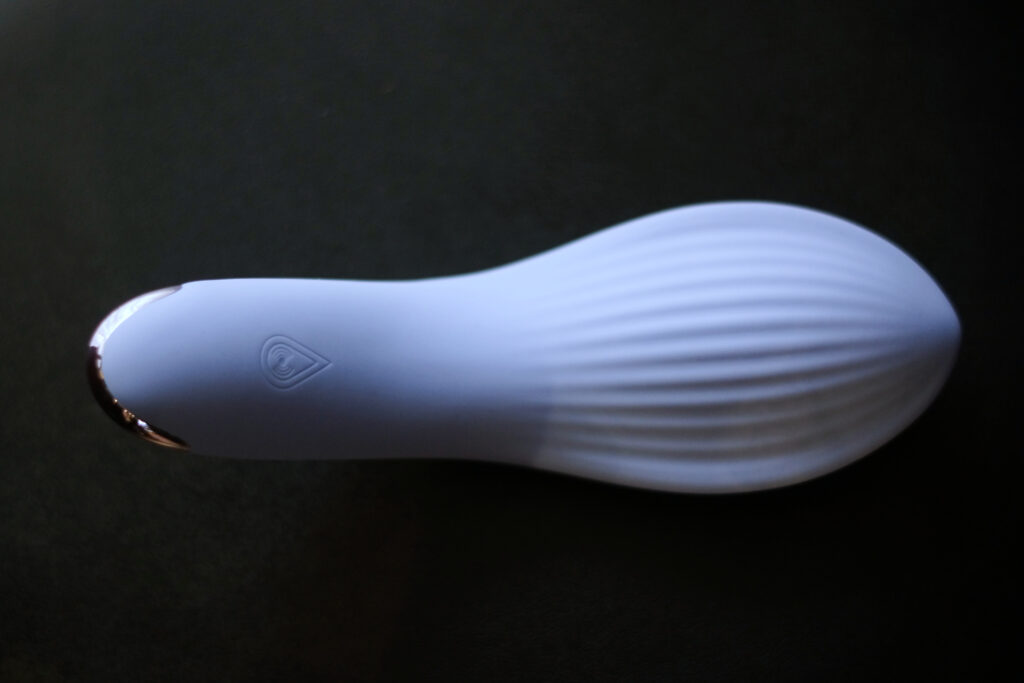 Though its power is noteworthy, I found N2's most compelling aspect to lay in the shape itself. The balanced distribution of vibration, when paired with the elegant curve and wide flat end, gives a tool to serve many varied purposes. N2 is billed as a "couple's vibe" by many, the thin silhouette fitting well between close-pressed bodies. The fact that the shape doesn't put any limit or suggestion on how it is to be shared or what sort of anatomy to use it on is what captures my heart and mind. It fits well in one hand,the balance remaining true regardless of how it is held. Upward, downward grip, either with side up, the handle end is easy to hold and doesn't feel awkward to grip. This lack of orientation is going to make it just as easy to use alone or on someone else without sharing. More, the way that the vibration is changed between the textures of the two sides and edges of the "play area" will suit pretty much anyone willing to explore. Paired, solo, sitting, standing, laying down, held against the neck or chin as an oral assist, or pressed into aching shoulders, N2 can be anyone's next adventure.