Today, we are going to overview the brand new Silicone Grip Thruster, from Cal Exotic. Sometimes you want something gentle and sometimes you do not. Then there are special times that you want a bit of both at once. That compelling dichotomy is what draws me to this particular toy.

In function, the Thruster takes few prisoners. It is 100% solid silicone of an aggressive firmness. It has some amount of flex in length, but only a bit. When it comes to compression, the silicone gives almost nothing. Then there is the fact that it has a handle like a hammer, complete with a diamond texture to add a sure and firm grip. There is no motor or other moving parts; nothing to power up, nothing to break, nothing to plug. It is powered by the will of the wielder. And wield is the word you want to use with a toy this solid. It also sports a hilt that adds to the weapon-like silhouette and ensures Thruster is 100% safe for anal play as well. Every word is true, but it is only half the tale.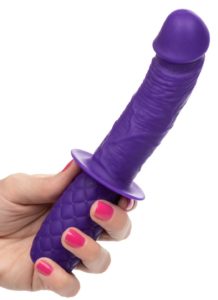 The Grip Thruster is also petite and completely adorable. The insertable length is only four and a half inches in total and the handle is sized for a dainty hand. It comes in bright jewel tones, a screaming pink and brilliant amethyst. The texture on the handle is certainly effective, but it is also deeply reminiscent of renaissance embellishment. It remains a fact that Thruster will pack a punch, but it will do so in style. The smaller size offers accessibility to a wider array of bodies and a more varied assortment of scenarios. Not everyone can indulge in great size, but that doesn't mean they don't fantasize about something a little harder. Now, they can have it.