Friday Focus: 10.15.21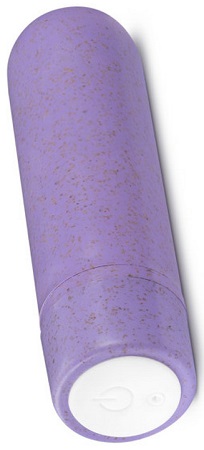 Not long ago we sat down to look at bioplastics and their entrance into the world of sexual tools. It seems that I am not the only person happy about it, because there has been enough demand to begin expanding our offerings. We now have the Blush Gaia line has a new plus one!
The rechargeable Gaia Bullet uses the same PLA bio-plastic as the battery operated bullet vibe, so all the same advantages for production and decomposition remain. The Rechargeable does have a more sophisticated motor than than the previous bullet, even beyond the on-board rechargeable battery aspect. Rather than a single speed, you have ten presets, five speeds and five patterns. This is a manageable amount to navigate with the simplified single button control. Only one button to worry about, though you will need to cycle through if you miss your stop. The power is also fair with a good amount of bass. It does get buzzier in the top two speeds, but nothing deal breaking. One of the most impressive qualities to performance is how quiet it is. I was not expecting this at all. The first time I checked one over, a person standing about three feet from me could not hear when I had turned it on.
It's a simple device, overall, but there is beauty in that. If you want something easy to use, small enough to pocket, and quiet enough to get away with a bit, the Rechargeable Gaia Bullet should be on your list. More, every step forward is worth taking when it comes to more ethical production and disposal.