Friday Focus: 11.22.19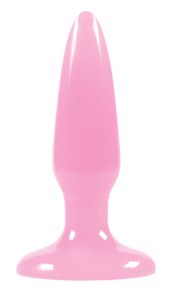 The Firefly plugs, from NS Novelties, fill an important niche in the ecology of anal toys. They are sized, priced, and shaped to cater to the newest of the new. Whether you know anal play is going to be your endgame or you just want to give it a try, this line won't steer you wrong. All three sizes share a sharply tapered tip to allow for the easiest of insertion. That point leads to a gentle slope to the widest part at the base. Next is a short dip to the waist and a full-round flair. That base has two hidden talents as well. First it is really flexible, adding a great deal to the comfort of wear and play. Second, it doubles as a notably secure suction cup base. Granted, it's not an ideal shape for thrusting, but it's still a valuable option to have.
The line-up is made in high quality TPE, both economical and sturdy. It's not quite silicone, in terms of durability and easy of care, but it's close. You will want a toy cleaner, though, as some soaps can dry out TPE. The three sizes offered span from 3.2 inches to a full 5 inches in length, so you are covered from blushing novice through initiate. The Firefly plugs don't dance or do dishes, but they have the beauty of simplicity to support them. Just for fun, they also happen to glow in the dark.