This week's spotlight is shining on the Freya from Blush. Why?  I hold up Freya as a solid example of my two favorite things, simplicity and versatility. The charms and uses of this style are largely self evident, as it's been a solid seller forever. All we are doing today is going over some of the reasons why that might be.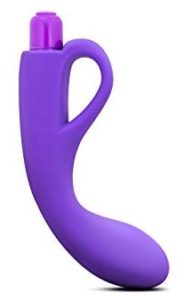 Freya has a solid curve with bulb tip for Grafenberg or Prostate hunting.  Hidden by the curve of the shaft, the swell of the bulb is quite pronounced, making it easier on those who are new to the hunt or have internal anatomy that likes to hide. The swell is well tapered on both sides for insertion and withdrawal. There are no textures or extras to the shape, just a smooth line of unbroken silicone.  Revisiting the idea of prostate stimulation, as the looped handle gives enough security for safe anal play. To take that in another direction, the loop is not only easy to grip, it is a lovely anchor for shibari.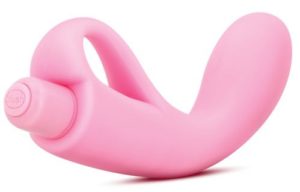 The selling point to me, though, is the removable bullet. Pop the bullet out if it dies or you want to replace it with another that has different attributes. Want to make it stronger, submersible, rechargeable, or remote controlled? All you have to do is swap out the bullet. Not all will fit, but the size is quite common. Maybe you don't even want a motor. Remove the bullet and use the remaining hollow as a finger sleeve. Or simple remove the bullet to fully sterilize the silicone body in boiling water.  The body is pure, firm, satiny perfection, easy to clean and resistant to wear and tear. There is also a five year warranty from Blush, but that's just overkill.
And there it is, the simple beauty that is Freya.