The Club Vibe, by OhMiBod, has been a Valentine's Day staple for many years now.  With every update this particular toy only gets better and has remained a favorite with the public and our staff alike.  Now that Club Vibe 3 is on the scene, and it is almost Valentine's Day again, I would like to take a look at this latest incarnation.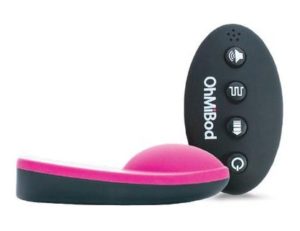 With this newest overhaul both the vibrator and the remote control are rechargeable. Yes, even the remote charges. This small update has eliminated the need for hours of hunting down a battery size so obscure you can only find it on the internet. It's also nice to know that you get a good 20 ft radius with that aforementioned remote.  Not the longest range on the market, but it it easily better than average. A full charge will net you an hour of run time.  That will be plenty, if you plan your play wisely.
Another important aspect of the Club Vibe is the actual panty. To get it out of the way, I mourn that they are one-size-fits-some. Looking past that, they are adorable. Not only are they super cute, reports say the included tenga-cut panty is quite soft and comfortable to wear. The pocket is specifically designed with this toy in mind. The vibrating unit is held securely and the positioning is well planned. More exciting, are the stories of how secure the whole affair is. From dinner into dancing, the Vibe should be held securely in place. If you are not one-size, though…you can build your own. All you need is a plan and the ability to do some hand stitching to add a pocked to the foundation garments of your choosing. Not an ideal solution, but easily enough to implement.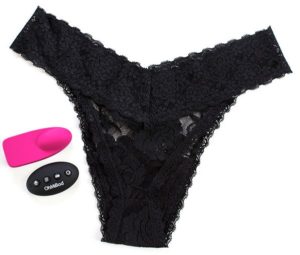 The fun doesn't have to end after date night is over, either. Even without a partner, you still have a strong, quiet, and versatile clitoral vibe with a handy remote. You can tuck it in the panty and go about your day or just hold by hand for more utilitarian self love. The unit operates on three modes; Tease, Groove and Club. Groove is you standard pre-programmed speeds and patterns that you expect from any vibrator. Tease is a little more creative. Tease lets you tap out your own pattern in real time. The longer you hold, the stronger the vibe. The best known setting, however, is Club. This is where OhMiBod's award winning sound response technology comes into play. The louder the sound, the stronger the vibe. This setting most often used for post dinner dancing.
Personally, I wonder what would happen if I set the remote next to the TV and popped in a nice, loud video game…