Last week we learned about Max and Nora.  Today, let's have a quick review and then we can move on to some other names in  the Lovense family…
(Overview)
Lovense first entered the remote control market in 2010 and they have not stopped to rest since. Every item they make is rechargeable and comes protected by a one year warranty. The most notable feature about Lovense, however, is the unique app that the entire line-up is equipped to connect to. This service offers bluetooth short range remote, long distance interaction, programmable patterns (you may save up to ten at a time), connectivity to a wide variety of devices (not just your phone), and includes a wide array of cam model services. They can also be synced up to a musical play list or respond to ambient sound.
(Stand Alone Toys)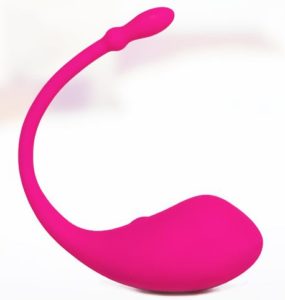 Lush: internal wearable. Lush is the "panty vibe" of the collection. Insert the bulb and rest the tail over the vulva and clitoris.  The curve of the user's pelvic bone helps keeps it in place.  It stands out among internal remote eggs due to the multi-purpose external arm/bluetooth receiver/retrieval handle.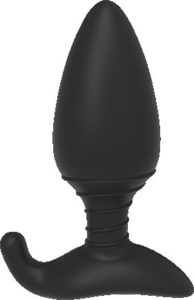 Hush: anal safe internal vibe. Available in two sizes to suit the users preference, Hush is your classic "plug" shape, with an external arm for ease of retrieval and a bit of extra buzz. It even boasts a subtle spiral design that gives a bit of texture and is purported to ease removal as well.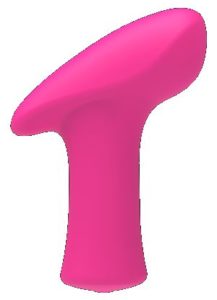 Ambi: external simulator hand held. I will admit right out of the gate that I am biased. Ambi is the model that lives at my house. It functions like any high power bullet, but with a hammer head on top to give surprising versatility in function. Depending on how it is held, you can get a variety of effects from diffuse to pin-point stimulation. There are suggestions on how to use Ambi in the packaging materials, but experimentation is the best teacher.  I would bite a hand that tries to take Ambi from me.
Aside from the spectacular Couple's Connection we learned about last week, Lovense does one other thing really, really well.  They have amazing Cam Model support. The amount of control available on their cam software is broad. An overview of the service available would include; a tip based toy reaction (you set the amounts and how the toy will respond), the ability to give control to a patron, or even offer a virtual sex sessions with a patron (that requires a Max and/or Nora combo). A performer can even link multiple toys and offer a menu for those interested in tipping for control.  The service also allows for split camming, offering the ability to customize each site's settings individually, even when you have them running at the same time. The software is frequently updated and carefully maintained, compatible with a variety of cam sites [13 of them when I wrote this]. Contrary to popular belief, this vast menu of options is available with the entire line, not just the Lush.