We've all heard of Screaming O products.  Over the years, they have proven themselves masters of the quick, easy, and disposable with both bullets and couple's rings.  More recently, they surprised us with the advent of the Primo line, showing that they are fully capable of making a good quality reusable item while keeping prices competitive.  Screaming O has expanded boundaries yet again and stepped into rechargeable toys.  Today, I want to look specifically at the Charged Positive bullet.  I have read many reviews on this device, from professional bloggers to personal friends.  I even have Positive in my own collection.  Opinions vary wildly on this particular item, but everyone agrees on one thing.  Charged Positive doesn't have much finesse, but it gets the job done and is swift about it.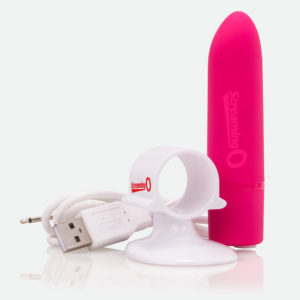 Let's start with basic stats.  The motor of the Charged Positive offers over an hour of play time on full blast.  It also has a good shelf life for the charge.  I had set mine aside for more than two weeks and it was still roaring the next time I picked it up.  Charged is fully waterproof, not only opening up the bath to adventure, but allows you to wash it right there in the sink without concern. The shell is composed of ABS plastic, to give durability, and a satiny PU coat to offer a velvety texture that responds well to lubricants and is a delight to touch.  All functions are accessed through a single simple button, three solid speeds to start, and a host of patterns. A simple press-n-hold will turn the unit right off without fuss.  The bow on top is a full two year warranty directly through Screaming O.  It comes with both a stand and USB charging cord.
Now for the subjective items.  Charged Positive has a very distinct"thump" to its vibration. Especially on the lowest speed, I would almost describe it as "mean". In my opinion, this is a wonderful trait, but opinions do vary and no two bodies or preferences are quite the same. As I mentioned earlier, it has more muscle than finesse. The second and third setting have progressively more speed and less punch, but it never becomes gentle. That said, so much can be done varying pressure and the shape of the toy (rounded side, flat of the tip, point of the tip) that I feel most anyone could find a way to genuinely enjoy this device. Anyone that likes power in an external vibe would welcome Charged Positive onto the bedside table.
Last, I want to revisit the stand I mentioned that Charged Positive comes with. It's a simple ABS affair with a flat base and a cradle for the vibe.  This is a simple solution to attempting to charge a bullet only to have it roll away and fall to the floor (usually disengaging from the cord in the process and not charging at all).  Screaming O took it a step further and designed the base to slide between your fingers and become a handle for the bullet while in use. This is where most of the mixed reviews came into play. Some found it easier to hold, others found it awkward to work around, one even used the flat of the stand as a play surface for her research with happy results. Luckily, it is easy to both mount and to remove so you may choose to include it or not in your own adventures. Even if it's just to keep the bullet from rolling away this stand is worth having.