This is going to be short and sweet, just like the subject of today's chat.  Namely, the Avant, Beauty  from Blush.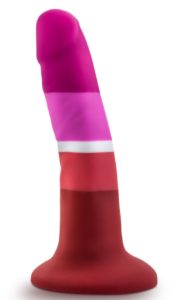 This toy is sculpted into a classic phallic shape with a  flared base. That base serves as harness hold, anal flair, and suction cup all at once. True, those things are fairly standard features, but they became standard because they work.  Then there is the size. Beauty both tiny and cute. I knew, academically, that it was 5 inches long without the base before I ever saw one, but it's something else to hold the tiny item in my hand. It is precious, but also fills a valuable niche. Beauty is going to be too large for practically no one. It's a lovely size for beginner adventures in penetration, both in or out of a harness. The delicate dimensions also offer for extra close contact with your partner during harness play.  Or, if one desires, Beauty will serve well as a warm up for other play. Last, I want to point out the silicone involved, here. While I have always been a fan of Blush silicone, the Avante line is something else. The outer "skin" of the piece is firm, giving enough structure to allow for easy entry.  The core, though, is quite a bit softer.  This gives it flex, and gives an illusion of skin over flesh.  It is subtle, but very well done.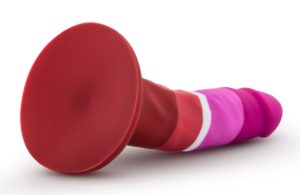 The fact that this petite, and harness compatible, dong is poured in the Lesbian Pride colors is pure, tongue in cheek, icing.