Since the Swan Wands hit the scene, I have been a fan of BMS Factory.  When I saw that they had put out a more traditional silicone massage wand, my interest was immediately engaged.  Then I saw it was pastel and had a sparkly button.  I was defeated utterly.  I placed a full order before I had so much as seen one in real life.

Cheeky, in the Pillow Talk line, is a compact massage wand that is eight inches from end to end, coated in cushy silicone with a few tasteful metallic accents. It is rechargeable with about 90 minutes of charge for 90 minutes of play time. The handle is "quilted" to provide a bit of grip, even if the lube gets out of control. There is also a subtle curve to fit really well in the hand.  The slight angle steps up to make getting a grip, holding on, and angling in with pressure, really easy. For someone with an achy old wrist injury, that is an amazing plus.  While not submersible, it is water resistant so cleaning up remains simple affair. It does have a metal band around the sides of the head, so I would recommend foaming cleaner for visual confirmation that all the grooves are sanitized. It also comes with a cleaning brush for the express purpose of keeping the texture on the handle and the band around the head clean.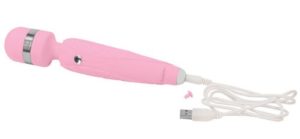 Now, why I brought this into our stores before I had seen a sample in person. BMS has a sterling reputation for both functional design and brutal power. The reviews tracked down, while few, reported that Cheeky lives up to the family name in terms of noise control and rumbling punch. The control button is a single Swarovski crystal (the real and trade-marked deal, by the way) for travel lock, on, off, and power cycle. The only negative this I read regards the fact that there is no "back" button. If you pass your stop, you need to start over. The quilted handle gets raves, though so that is alright.  So, what did I think after I did have it in my hands?
All true. The high speed is not that fast, but the bass thump is cruel.  We are talking deep, penetrating vibration.  I can also confirm that the travel lock is easy to use and not at all fussy.  The no back button issue is, unfortunately, true, but that didn't cramp my style at all.  Another nod to those with joint pain, rather than pushing again and again to get to the desired speed, all you have to do is press and hold.  The speed increases smoothly until you release or reach the top.  All in all, it's a magical device.