When Cal Exotic presented the Her Royal Harness line I was surprised. They have always been good about quality, but these listings are a new level of engineering and attention to detail. I want to start with the actual harnesses, as a pair, before we look at individual assets. The story begins with nickle free and completely vegan construction. They are not meant for submersion in water, but a spritz of cleaner and a quick swipe with a damp cloth are easily enough to keep for polypropylene clean. Also, do note the hook-&-loop closure straps and chromed slides that allow for completely personalized sizing. The included rings swap completely out, should you need another size or would prefer a different material. The straps in both models adjust to fit up to 64 inches worth of hips! To finish up, everything is fully finished without rolls or edges. No binding, biting, or pinching in sight.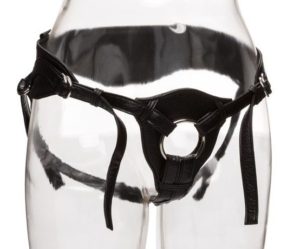 Queen: The primary feature of this style is the wide back strap. My personal experience has always shown that this cut is better for both fuller figured bodies and supporting larger dongs, both in comfort and stability while in motion. If you want to customize the Queen, the backplate can be unthreaded from the ring straps, if desired. The need to do that is greatly diminished, however, as the through space built into the harness accommodates double sided dongs right out of the box.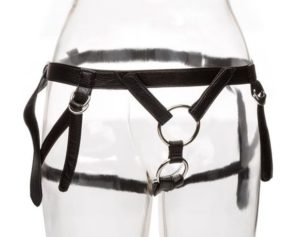 Duchess: The highlight of this style is the double ring rig. This allows for any genital conformation to offer solo DP to your partner  of choice. Or, perhaps, you want to be able to accommodate both a warm up dong and main event without swapping rings? While thinner straps don't offer the same stability in motion, you can get a barely-there feel that makes the act feel that much more organic.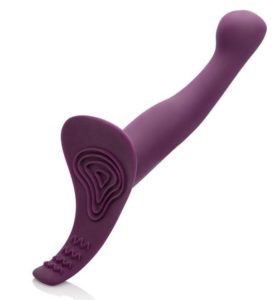 Me2 Probe: I don't know if the name is meant to suggest an extension of self, but that is what I hear and I think that is beautiful. The base is carefully contoured to hug a vulva (most any vulva, it's surprisingly flexible. The subtle texture adds just that little extra to keep the driver fully engaged. The curve of the shaft is just so to hold the passenger side of this dong up and out in a surprisingly natural angle. The size is also very carefully planned. The hint of waist in the middle would allow the indulgence of a partner that doesn't want much depth or girth. The swell at towards the base accommodates a partner that wants a bit more of both. This probe is case in a single and solid piece of silicone allowing for ease of care and longevity. As an added bonus, silicone transmits vibration well. While Me2 doesn't vibrate, nothing is stopping the user from adding a vibrating ring or tucking a bullet under the wide base on the driver's side.  There is a vibrating version, but we don't have that stocked just now.
[Nearly useless trivia time! I get the pun in the name and how they tie it to the models. The part of me with no sense of humor is a tiny bit irritated, however. "Highness" is only appropriate for a prince or princess. A queen would be "your Majesty" and a duchess is "your Grace".  Just in case that sort of thing is important to you.]