06.18.21
If you were to find me on the sales floor and tell me you wanted a silicone dong, my first stop would be the Colours Pleasures line from NS Novelties. I have written about them in the past (and more than once), I enthuse about them often, and they have been a staple for our stores since the day I brought them in. My favorite highlights have always been the powerful suction cups, the sheer variety offered in terms of color, size, and density. Combine that with the very reasonable price tag for a piece of silicone that size, never mind one that is also well made, and I really don't have. While none of that is new, there is something new to explore within the family. Today is for the brand new Colours Pleasure offshoot, Yum Yum.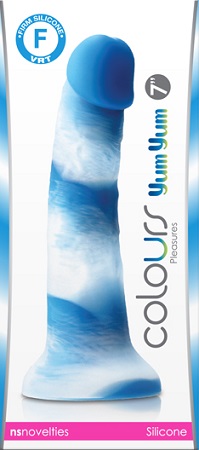 Yum Yum has all the standard aspects of classic Colours, the shape is distinctly realistic, the density is firm, and they have a suction base. The distinctions are twofold, one aesthetic, the other function. The parfait layering of berry and cream coloring is the first thing I noticed when I saw the preview pictures. It is no secret that I love pretty toys, so my attention was immediate and complete. The slight translucency of the jewel toned bits adds just a hint of complexity and the contrast is arresting. When I finally got my hands on one in person, that is when I noticed the harness base replacing the suction cup and testicles you see on almost all Colours toys. It is true, I took a second to mourn the lack of real suction before I pressed it down on my desk…and could not remove it. The shape and width of the flair, the thickness of the sides, the depth of the indent, the density of the silicone all come together just so to give it a staying power that easily matches or even exceeds the standard cup. This is the part that stoked the fires in me. I have seen my fair share of dual suction/harness bases before and have never been completely satisfied with the results. This base, this is the dual purpose flair I never believed could be.
It doesn't vibrate or twirl, but it is solid, well made, and can easily last a user's lifetime with minimal care. As a bonus, because Colours is all about finding your perfect fit, the Yum Yum line offers three color (screaming pink, bright purple, and my favorite blue) and three sizes (six, seven, and 8 inch) so you can find the best fit for your needs…or one of each to suit different moods. The way they are priced, getting a few to mix and match is not just possible, it's reasonable. From the shower wall to a harness ring, Yum Yum can provide.