Friday Focus: 11.29.19
Vixen Creations, setting the bar for non-vibrating silicone toys since 1992. [That's four years older than Fun Factory! I did not realize that!]. In addition to setting the stage for high-end silicone toys, Vixen is also the mother of dual density silicone (aka VixSkin). Another first under their belts is the Nexus, the original strapless strap-on. Their product line-up isn't large, but what they have is of peerless quality, and always has been. It is an honor to carry this brand. While not all styles are available at every store, here is a quick look at our favorite shapes…

First up is Johnny, seven inches with an upward arch and testicles attached to the harness base. Many would consider this Vixskin model the most "classically handsome".

Outlaw is the Big Boy.  Eight and a half inches of straight shaft and distinctive girth. Like Johnny, Outlaw is made of dual density VixSkin with both a harness base and balls.

Our best seller by far is Mustang, also in VixSkin. This style is a smaller at six and a half inches, but has a curve similar to Johnny. Mustang has no testicles, ending in a simple round harness base.  If you are looking for a little something extra for harness play, you might want to invest in…

The Royale base is only available on Mustang at the time I write this.  It is, as is oft the case with Vixen, ground-breaking. Meant to fit in a simple ring harness with no back plate, Royale is contoured to rest against and cradle a vulva , offering a caress to match every thrust. [Pro Tip: it works!]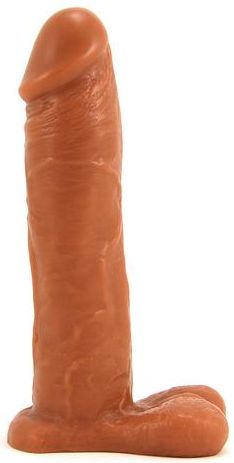 Colossus is a generously proportioned girth-gainer sleeve, rather than a dong. The hollow silicone skin is styled realistically, to create not only the feel, but the complete illusion of a larger penis for both the driver and the passenger. Don't forget to generously lube up the inside for a smooth ride, the scrotum strap will hold it in place no matter how slick you get.

Mr Right is not just any packer, it's a packer make in skin-soft VixSkin.  Soft enough to move with you, weighty enough to feel real against your body, will warm to your body temperature, and super simple to clean and care for.  This packer is intended for daily wear and years of use. It doesn't have the painted detailing of a real prosthetic, but it comes close in function.

Nexus Jr I have reviewed before, in gloriously over-sharing detail.  In short, it is a masterfully crafted dual sided "strapless" strap-on.  Nexus is in firm silicone and gives delectable feedback to the driver with every thrust.