Friday Focus: 03.19.21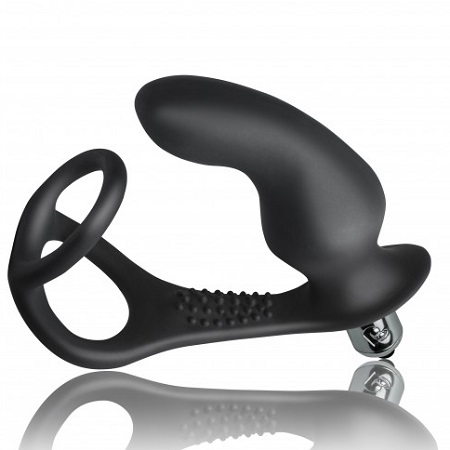 Still on the Rocks-Off Express! The way I see it, it's about time we touched on one of their creations specifically designed for anal play. When it comes to backdoor delicacies, Rocks-Off is best know for Rude Boy, but they did not stop to rest on those laurels. Our tourist stop today is the RO Zen Pro.
What is RO Zen Pro? This a is sleek and sexy one stop care package for anyone with a penis. The double loops at the end of the silicone body wrap, with care, around shaft and testicles before joining to a wide flat band of silicone (conveniently sporting a swath of soft silicone nubs) that links the whole package to a modestly sized prostate plug. If it wasn't such waste of the rest of Zen Pro's talents I'd want it as a G-spotter. The base of the plug has a gently swelling uniform flair to hold it firmly in place from any angle. That shape is topped of by a squat "hook" of silicone angled to poke and prod at the internal goods while the wearer does…whatever. It's slow profile enough for partner play, exciting enough for solo play, and the whole show is powered by the Rechargeable RO-80 bullet. Yes, once again, this toy has the potential to be a built your own adventure kit…or enjoyed with no motor at all. And really, with the motor out, no part would protrude. You could just put this on, sit at the computer, and rock while seeing how long you can ignore the internal press and the external tug at the block and tackle both. Granted, it would do all the same tricks with a partner, but you wouldn't need to take the motor out for that to work.
In short, Ro Zen Pro is just one more reason to love Rocks-Off.