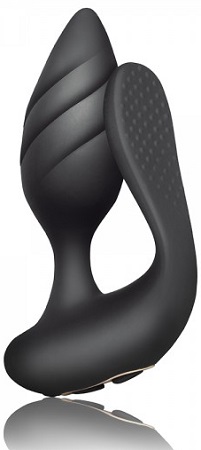 Friday Focus: 11.05.21
The Rocks Off, Cocktail is a different take on the idea of a couple's vibe. We all know We-Vibe and it's penetration friendly vaginal/clitoral duality, a combination that made most rethink partnered tools. Cocktail is one of those reworks, but went in a very different direction. Cocktail does double duty, pairing vaginal and anal stimulation, while still allowing partnered vaginal play.
Starting with the dual penetration aspect Cocktail is already ahead of the game. The built-in butt plug is small enough to allow for most users, with a distinctly slim waist to allow for a firm grip and a secure anchor. The vaginal insert is flat and just barely curved with a suggestion of texture. It won't have the Grafenberg punching power of a We-Vibe, but the chance that anyone will be too big to fit in beside it (or sized just enough to drag it back out) is greatly reduced. The controls are the epitome of simplicity, with a literal picture of the side it controls on each button. When it comes to partnered penetration toys, remote access is key. There is no need to pull it out of place to adjust your controls. And yes, both sides house their own rechargeable motor.
While the power of Cocktail is not all that intense, it's aim is enhancement, not to overshadow. It is also very quiet, adding to the role as a silent assist rather than acting as a third partner in the mix.