Impulse E-stim from Cal Exotic; this is something I have been waiting for. We have a lot of amazing electrical devices on our shelves, but one thing we did not have was a beginner priced all-in-one. It is true, stand alone electric toys don't offer the same range of application as a TENS unit, but they are ideal for the newly curious, travel, or toting along to events. No cords, no plugs, just standard vibe-style controls with some extra function on the side. There is more available, but I chose only two  to start.  At the time I write this we have both the Kegel trainer and the Dual Wand. They are silicone, have rechargeable motors, allow for the mix of seven vibes and five strengths of zap, all come protected by a one year warranty from Cal Exotic.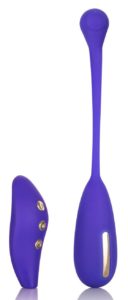 Remote Kegel Exerciser: E-stim is, by design, an ideal solution to Kegel exercise. The contractions triggered by e-stim in the vaginal canal not only target the correct musculature, the resulting clench is executed correctly for maximum effect. The best part, however, is that you don't have to think about it! With that aspect of fitness in mind, the main reason I snapped this one up is the remote control. When you are in the middle of a workout, the last thing you want to do, is rummage around in your underpants. The Impulse Kegel lets you hold the controls in your hand, even when you are fully dressed. While the egg is quite mild when it comes to output, it doesn't take much to get your muscles jumping. In addition, though I consider it a wellness item first, no one is going to stop you from wearing it out on date night. Sure, a remote vibe is all well and good at dinner, but how many people bring e-stim out to play? You have up to an hour of play time to work with and the remote has a range of about thirty-two feet, so there is a lot to work with.

Dual Wand: While you certainly can use Dual Wand for exercise, this device was built for more hedonistic adventures. The first thing that occurred to me, before I so much as saw Dual in person, is the fact it is a self contained sex machine that doesn't need a wall outlet. The same pulsing charge that causes Kegel muscles to contract, will wrap those muscles around a missile shape like a fist and causes it to thrust in time with the pulse. When you have an external arm as well, that is also going to thrust and slide against the body. It's a bit like having a partner rocking the vibe for you, only no hands are required. That is a whole lot of excitement in one package. To keep it simple, and offer a more inclusive appeal, the external arm has no charge just vibration. Dual Wand has a significantly stronger charge than the Kegel Exerciser, so the uninitiated will want to start low and work up. Dual Wand boasts up to two and a half hours of play off a full charge.