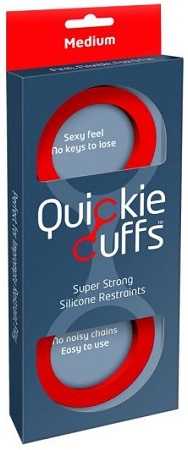 Friday Focus: 12.25.20
You are busy, so this is gonna be simple. I have been wanting to give some extra love to the Quickie Cuffs from Creative Conceptions for months now and this seems like an ideal time. Maybe you're reading this a week late? That's fine. There is nothing time sensitive here.
What makes Quickie Cuffs a solid choice? They offer the illusion of restraint without the commitment. In my view, this is invaluable. This concept brings B&D into reach for people that otherwise might never be able to experiment. Picture anxiety, PTSD, or even as a broader trust building exercise. Maybe none of that applies, but you just don't know if you will enjoy this game? These solid silicone bonds simply stretch around the wrist or ankle in question and hold only as long as you wish. More, there are no buckles or bits that might catch or chafe. That is yet another worry eased for the a player that is excited, if uncertain. I cannot begin to express how important all of that is. The brain is the largest part of sex, after all, and should be the first body part accommodated for.

To make all of that better, they are also surprisingly inexpensive, so there is no bar with getting a full set (or two) to mix and match your ways to play. Since they stretch, most partners won't have trouble playing switch with the same set so everyone has a chance to experiment with roles. Best yet, the silicone they are made from will stand up for quite some time with minimal care. (Provide you keep blades away. Silicone with stretch, but it it starts to tear, it will keep going.) Quick, easy, and simple, Quickie Cuffs are a solid and economical place to start your play, even if you only want to wet your toes.