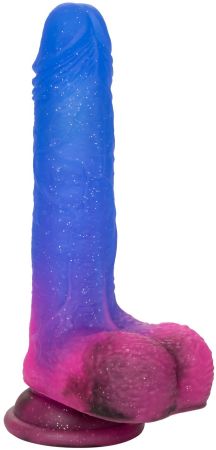 Friday Focus: 09.18.20
Ombre Hombre, from Cal Exotic, is pure 90s glam. Boasting a blue to pink color fade, playful glitter flecks, and an old school phallic shape (complete with suction cup), Hombre seems to have stepped forward in time. The look, however, is where the throwback ends. The whole toy is cast in silicone, with not a drop of PVC in site. Even so, Cal Exotic still managed to render the body of the device super soft, pliant enough to warrant the silicone being bolstered by a flexible spine. In another step forward, there are no corded controls and no battery back. The motor is rechargeable, the controls and charging port carefully hidden in the back of the scrotum. While it is true that the concealed buttons did take me a moment to find, I would rather have to hunt a a bit than have the illusion ruined by visible modern controls. Along with the rest of these fixes, Hombre is also fully submersible, so it can follow you anywhere.

Next up are the insides. I mentioned the rechargeable motor already, but I did not touch on its lengthy 45-60 minute run time it offers. It has an assortment of speeds and patterns to choose from, ten settings in all. While that's not an overwhelming amount, it also has a memory, so pressing ON takes you right back to the last setting you used. Truthfully, the motor doesn't have a much in the way of bass, but it does have a speedy hum and the adds to the whole. To top it all off, Ombre Hombre comes with a one year warranty direct from Cal Exotic.
In summary, this new friend is blend of old school good looks with the bonus of modern technique. If you are a fan of classics, contrast, remakes, or simply enjoy a little over-the-top flair, Hombre Hombre might just be for you.