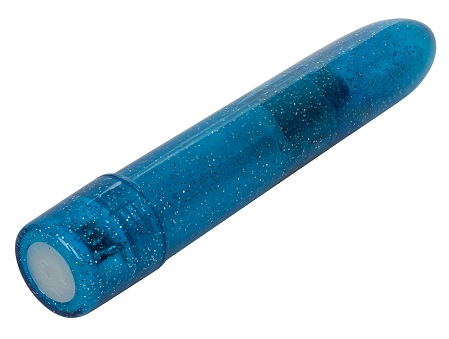 Friday Focus: 04.22.22
Lets roll back to basics. Back to the days of replaceable batteries and translucent ABS plastic with glitter. Aside from nostalgia, not every job is best served by a motorized beast that does everything at once. Some have simple wants. Others are too new to toy adventures to know what their preferences are. Still more are getting a gift for someone else, without the opportunity to interview them about their tastes. Let's take a quick look at Cal Exotic's Sparkle Slim and Sparkle Mini.
This pair is as basic as basic can get and still have a motor. The motor is a simple three speed affair, ON/OFF, and speed controlled with a single silicone button at the base of the piece. The body, as I touched on, is translucent ABS. Not only can one see the workings of the motor, ABS is remarkably sturdy and is nearly incapable of causing adverse skin reactions, and is polished glass-smooth. While it does take batteries, modern toy motors can run with rechargeable cells keeping your options greener while still being able to swap spent batteries on the fly without a recharge time. The flecks of mica encapsulated in the ABS housing adds the aforementioned touch of nostalgia and whimsy. Once powered on, they are not the quietest of toys. Still, the power output is much improved from the late 90s missile vibe it's patterned after. Best of all, with just three speeds and no patterns, it takes no work or patience to find the setting that works or move from one to another.
It won't launch rockets or do your dishes, but it is a very sturdy and easy to use device. Even the packaging is simple and colorful, adding to it's viability as a gift as glitter stripes won't offend or embarrass anyone. It's also priced to match it's simplicity function, putting it well with any budget. Or, in my option, into a "first toy" or "new relationship" care package. Add batteries, lubricant, some scented candles, and massage oil and you have a welcome gift for most intimate occasions. Just to sweeten the deal, the Slim and the Mini are both fully submersible and come with a one year warranty through Cal Exotic. When choosing between the two, the once difference is length. The Mini is 4.5″ end to end and the Slim is 6″.