Friday Focus: 03.25.22
Some time ago, I was if we carry metal-free strap-on harnesses. As it happened, we do! I had two other products on the list for today's spot, but that question popped back into my head and I realized, if one person asked, it's likely that many are thinking the same. We have a few options that are totally metal-free, but the Saffron Harness from Sportsheets also happens to my done in my favorite style.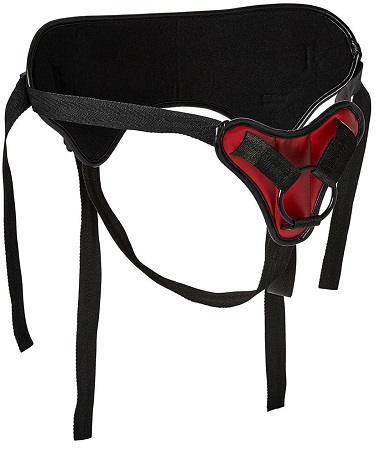 First, what is it I like about this style in general? I find it to be the most comfortable and secure to wear, as the side and back tend to be independently adjustable. They are also more versatile than panty or brief style harnesses (for my own preferences, at least), leaving extant genitalia unimpeded. That is not just good for reciprocal attention from a partner/s, but allows events to move from one activity to another without having to remove your kit. For someone that does prefer to have their body covered (or want to pack on a wearable vibe), undergarments can be worn under this type of harness without getting in the way.
Saffron, in specific, follows this general outline, while adding some extra luxury on the way. To start all four points of adjustment (two for the waist, two for the thighs) attach to a wide back plate. This wide and stationary anchor prevents rolling or pinching of the straps as the Driver moves. This is especially valuable for larger individuals, since we are the one more likely to experience that pinching and rolling. It also aids in keeping the harness stationary on the body, with no drifting to one side. The solid portions of the harness are PU backed neoprene, fully hemmed and finished from edge to edge. The buckles are plastic, straps of woven nylon, and closures around the central O ring are hook and loop making them both metal free and low profile! (Yes, the front plate will slide off, making Saffron compatible with double ended or strapless tool styles.)