Friday Motivational 08.25.20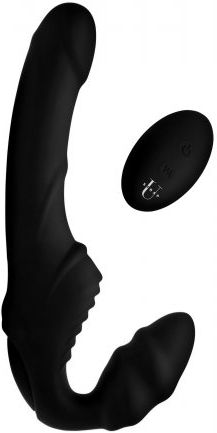 It has been quite some time since we had a chat about XR's Strap U line of "strapless" strap on tools. At the time of my first mention we only had Evoke and Revolver in our cases, as there was not yet much to choose from. In the three years since, the family has both grown and matured. There are a couple of the new kids, in particular, that I want to hold up today.
First, lets have a quick refresh on what makes the strapless Strap U so enchanting to me. First, they closely resemble the Ideal Strap-on(tm) I used to doodle in my late teens and early twenties, long before such a thing existed. The curve and shape of the Driver's end curves just so to give greater stability and is paired beautifully by the textured external base, not to mention the vibrating motor housed within. The Passenger's side is modestly sized for a variety of people, and can easily double as a solo toy. With that established, why did we choose to bring in Pro Rider and Ergo Fit?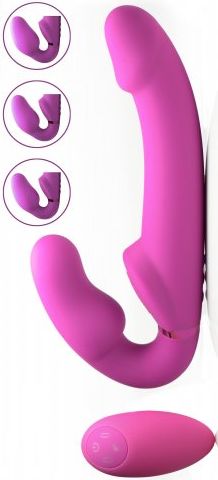 Pro Rider takes a bit of a departure from the super sleek looks of the rest of the line. This one has texture. Not just on the Passenger's side shaft, but the Driver's bulb as well. Even the "clitoral landing pad" that hugs the Driver's pelvis has a deeper texture than the other versions we carry. This alone would have been enough for me, but no. It also comes with a remote control. No having to choose your settings before you start, no fumbling with the base after it is in place, no dangling cords with a battery pack. While I do appreciate the option of remotes in toys, I have never been personally excited about the idea until this pairing.
Ergo Fit looks like Evoke, but it has secrets. Ergo Fit has the same added benefits of an onboard rechargeable motor and remote control that I mentioned for the Pro Rider. The thing that sealed the deal for me, however, is a brilliant Driver's side bonus. Ergo Fit inflates. Usually, I like to wear an open ring harness with "strapless" models for the added stability. The inflating Driver's bulb makes a harness completely redundant. It literally swells to fit the anatomy of the wearer perfectly, locking the device firmly in place under the pelvic bone. I can also set any skeptical minds at ease, no it won't over inflate and pop. It takes less inflation to lock in than one would expect and gets no where near a capacity that would tax the silicone. A secure fit, rechargeable motor, hands free controls, and the perfect fullness right behind where many Grafenberg spots will be located? I should not have favorites, but here we are.