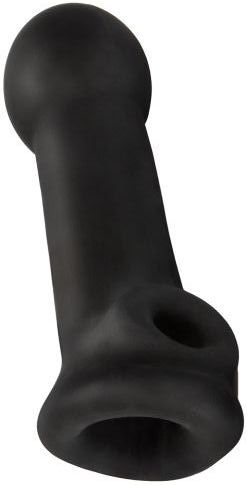 Friday Motivational: 10.02.20
This week, I am rolling back to the original purpose of my Friday Focus, highlighting a brilliant toy that is not getting the love it deserves. There are two toys, really, but they are very similar in function. Today is for the Colt Slammer and Slugger from Cal Exotic. Girth expanding sleeves are fairly basic, but they all have checks and balances. This pair has more going on than most within their price range.
Both the Slugger and the Slammer add girth to any penis (or other phallic object). They are made in a plushy soft TPE, adding not only thickness, but a lovely contrast of softness over whatever firm object may be inside. In effect, it's a built-your-own dual density kit. Taking the design one step farther, they both have an extra thick scrotum strap. This keeps it in place, no matter how lubed up the inside of the sleeve may be and adds a bit of grip and a gentle tug as you get on with whatever you are doing while wearing it. The only real down side is that they have no interior texture.
Who might need Slammer or Slugger? Anyone that wants a plush girth gainer on a budget, to start. Don't forget, a sleeve goes over a toy the same way it would a human. Want to add double duty to a glass toy for when you want something softer? Or you find the Passenger side of the Fun Factory Sharevibe a little thin for your taste? Maybe an old missile vibe that you want to dress up? All of the above apply. Another consideration would be a budget friendly tester for Perfect Fit, Fat Boy. No mistake, Fat Boy will last longer, is thicker, and has interior texture for the Driver. Unfortunately, they also come with a price tag that reflects those assets. I am a huge fan of Perfect Fit, no mistake, but I would 100% support a person that would rather spend less to make sure they are even interested in that style of toy before they invest the extra cash.
How are Slugger and Slamer different? Slugger is a full wrap and Slammer has an open end (though it does have a bulb molded into the end to cuddle around the head of a penis). Typically, I gravitate to open ended gainers for real bodies, since leaving the glans exposed is kindest to the driver and closed ended for use with toys and other inanimate items. The final call, however, it yours to make.