Today, I want to have an overview on Wicked Sensual Care products. The line has come far since it first came to my attention and they are worthy of some showcasing.  This is not an exhaustive list of products and virtues, by any stretch, just a starting point to whet the curiosity.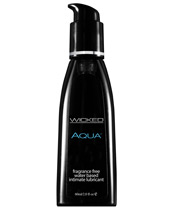 Aqua is both the original formula and the base for many that came after. Notable in the ingredient the mix are aloe, olive leaf extract, and vitamin E, all known for skin conditioning and repair properties. Also of note is the fact that, the formula is vegan. While the Aqua formula does contain glycerin, it is vegetable derived and completely free of any animal by product. Aqua blends very smoothly with natural lubrication and is quite long lasting with no residue to speak of. Clean up is quick and easy, as it is designed to rinse clean rather with water than reactivating.
The Flavors are, very literally, the reason we first picked up this brand originally. I tasted a sample of the Caramel Apple and made an order the next day. That sounds like an impressive endorsement on its own, but the fact that I am not one for flavored lubricants makes it even more potent.  The ingredients are nearly identical to the original Aqua, aside from the hint of flavor and a touch of stevia extract for sweetness.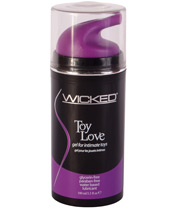 Jelle and Toy Love are the same formula, two packages. It shares ingredients of Aqua but is blended to be thicker and offer more of a cushion. The Jelle came first, marketed for anal play. Almost as soon as it hit the sales floor, however, the value that a thick stay-put formula would offer for play with toys was readily evident. Toy Love was born shortly there after, the same blend, but in an easy to use pump-top bottle.
Aqua also comes in heating (utilizing cinnamon and red clover) and cooling (laced with menthol and peppermint) for those that like to dabble in sensation and temperature play. Keep in mind, the effects tend to build over time, so start with less and add more as needed. It's easier to add lubricant than stop and wash it away if you overshoot your tolerance.
Aqua Sensitive is based on the original, but has been formulated without any kind of glycerin.  It wasn't easy to make Aqua much gentler than it was to begin with, but Wicked managed.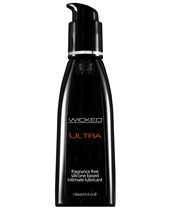 Ultra was the first true departure from the base formula. What lubricant line doesn't have a silicone version, after all? If you look at the ingredients your will see only two, Dimethicone and Dimethiconol. Both are types of silicone. No fuss or fillers, just silicone. You can get Ultra in heating (cinnamon and clove) and cooling (menthol) as well, but it tends to be more intense in effect than the water-based counterpart.
Creme is formulated for one thing, long lasting solo play. It is oil based, so it doesn't play well with toys or condoms. Even so, they had the good sense to use coconut oil, so it smells pleasant and is very skin friendly. In fact, I have seen it recommended as straight up skin moisturizer.