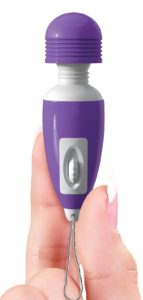 Micro: This is the baby of the family at a microscopic 2.5 inches long. It runs off AG13/LR44 button batteries, both common and inexpensive. There are no surprises to the control, it has a simple On/Off toggle shaped as an analog rotary wheel. The actual vibration is thin, but very fast.  It's a functional vibrator, but it also holds strong appeal to collectors of miniatures or anyone that appreciates novelty.  It even comes complete with a key chain attachment, should you be of a mind.

Mini: I have many sentimental feelings here. The Mini Wanachi was first of the line to command my unwavering attention. At one point I had four of them, so there would always be one close to hand (and they are inexpensive enough to make that practical). It is mid-size for a vibe, but small for a wand, so it's easy to navigate and direct. It takes traditional AA batteries (and runs just fine off chargeable batteries for extra convenience). The two strongest assets here are the full analog speed dial and the power. The Mini Wanachi easily has the best bass range motor in it's price class.  It's quiet, powerful, and ranks my personal favorite of all the battery-powered toys that I have owned.

Recharger: This iteration is the iconic modern wand style massager. It is cordless, houses a powerful rechargeable motor, offers a sleek easy-grip handle, and is completely enrobed in silicone. The controls are simple push button-style giving easy access up and down the ten assorted speeds(3) and patterns of pulse(7). While not submersible, Recharger is water resistant to allow for easy cleaning to compliment the hygienic silicone and ABS.  It has, no batteries, no cords, and no fuss.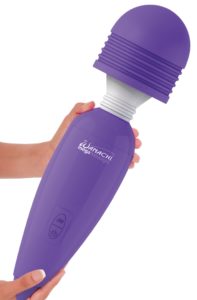 Mega: We have chatted about the Mega Wanachi before. Mega is nearly a foot and a half long (17 inches, tip to cord) and plugs directly into a wall outlet. That fact is a little limiting, but the cord is seven feet long, so it won't slow anyone down much. Simply put, it is an earthquake that you can hold.  (It's also a grand back massage if you lie on top of it. You will hear it in your bones, but it will work those knots loose.)