Sugar Sugar, from NS Novelties is another great example of the value and versatility in simplicity.  It has a clean design, no moving parts, and great materials. Even if the intention is as old as silicone, the size, shape, and angles of this kit are put together just so to make it stand out.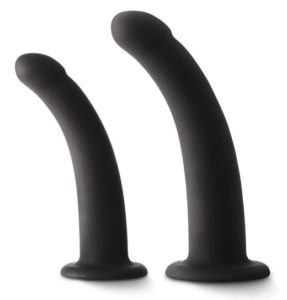 The differences setting Sugar Sugar apart are small, but profound.  The primary intent as a trainer to strap-on play is clear in the overall design.  Certainly, you may use the pieces as a stand alone, but the sturdy harness base makes the original intent clear. As it was imagined as an entry level kit, both tools are smaller than average and have almost nothing in the way of texture.  The included dongs are five and six inches long, slender, and have a distinct taper to the stylized glans.  The outline only has the barest nod to a phallic shape, ideal for those that are not into realistic disincorporated body bits. They also boast a graceful curve, weighted toward the tip, again with strap play in mind. (I will tell you, an upturn like that can make all the difference when first learning to drive with your hips).  The same base that secures them for harness play makes them anal safe, so they may be used by most any body in whatever way is desired.
Even if one were to outgrow them for general use, as they are quite dainty, the quality of the silicone and care in design assures they will always have value as a warm-up set no matter how one's toy collection grows. They also have one secret power. The same way you can join the bases of two Colours dongs, suction cup to suction cup, to become a double ended device, you can link Sugar Sugar. It's not as secure as the Colours line, but still worth note.