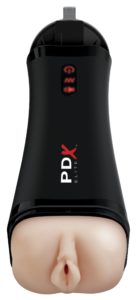 The Talk Back Stroker from Pipedream starts in a very straightforward way. The insert is extra plush TPE with a generous helping of internal texture. It runs in bands from top to bottom and is particularly delicious. It also has a thick cushion over the edges at the top to protect the user from hitting the outer shell when using the device. The insert is closed ended, so there is no chance of fluids spilling into the case. The sleeve slips free of the shell for the sake of cleaning. Do watch out for the bullet, since that slips into a hollow in the underside of the sleeve and it does have a cord leading to the housing (not only does that funnel more vibe into the TPE, it muffles the sound of the vibe to nearly nothing). The outer case is ABS with a light velvet texture for a sure and secure grip. At the bottom of the case you will find a heavy duty suction cup with a locking hinge so the user can adjust for angle as well. All of that is great on its own. Talk Back is a well made and carefully thought out masturbation sleeve. That, however, is only the beginning.

The real show starts with the motion sensor that Talk Back has built into the bullet. You thrust, and the sleeve knows. The bullet pulses in one of 10 settings in response. The motor is rechargeable and has lengthy play time, as it's programmed to go off in bursts to complement the motion, rather than keep up a solid buzz. More impressively, Talk Back complements that pulsing vibe with a lilting feminine voice. It moans and makes comments depending on what has happened to the sensor. Talk Back also has some speech recognition. It is programmed to respond to a fun assortment of phrases. The box has a few examples, and with more inside, all with fully voiced answers to complement the experience. It also has two volume settings (quiet and normal) that can be accessed with either a button or verbal command of "volume up/volume down." The sleeve also has a headphone jack at the base, so a person can plug in and enjoy their adventure in privacy.
It's not AI, not yet, but I really like where this is going.