Friday Focus: 0917.21
In the world of underwear styled harnesses, we have a small, but choice collection. We've talked about the Boundless Backless Brief. We've held a spotlight to the ultra feminine Pegging Panty. We have not yet had a chat about the all purpose simplicity of the Packer Gear Briefs.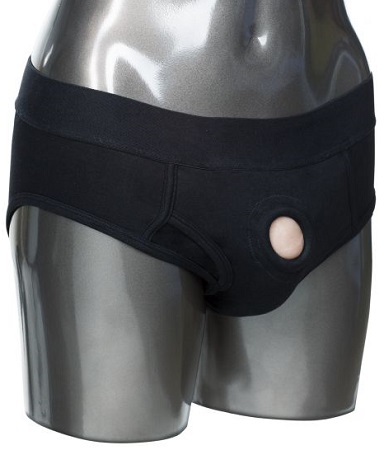 Similar to other harnesses from Cal Exotic, Packer Gear is overbuilt for longevity while keeping the price accessible. Every last seam of the cozy cotton briefs are carefully finished and thoughtfully placed. Much like other cloth harnesses from Cal, the fly is made in thirds to close like an envelope around the base of your tool of choice. Because the details are important, this includes a built in bullet pocket for the Driver. Alternately, Packer Gear's fly can be tucked fully open to accommodate dual ended toys or "strapless" style dongs. For bonus points, they are also covered by a one year warranty from Cal Exotic.
Unlike either of the previous two styles, these briefs are totally basic in appearance. No lace, no cut away, just a very ordinary brief. There is a place for simplicity, however. No frills means full utility with a look that blends right in with the rest of your life. Packer Gear Briefs can be an every day rig, with the envelope holding a packer securely and the full opening accommodating an STP device. Maybe you're cis and just want to play with gender? They work for that, too. Wherever you need them, the Packer Gear Briefs let you do it in comfort.