Friday Focus: 02.20.20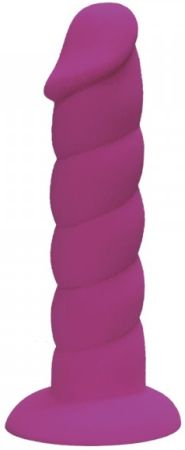 My first impression of Suga Daddy is the overall style.  It is phallic enough to be suggestive without actually being realistic. The texture provided by the broad spirals that soften the edges on that representation are pure icing. With this in mind, I chose only the jewel tones for our selection to highlight that divide.
When it comes to texture that has a lot of impact while remaining easy to clean and avoiding potential pinching or pulling, this is pretty much ideal. Follow that twist all the way to the bottom and you will encounter the multi purpose base. Suction cup, harness flair, and anal safe stopper all in one. The silicone that make up that shape is also a strong attribute.  It doesn't have the velvety surface I love in Blush toys, but the flex and compression is deeply impressive for the overall firmness. One can thrust with vigor without the worry of an uncomfortable poke or jab.
In short, Suga Dady offers up a relatable fantasy shape with brilliant colors, lovely texture, and the flex and spring to get where you need it to go. As the price point is also brilliant, it's more that deserving of some extra attention.