Friday Motivational: 02.28.20
Today, I present for your consideration the Renegade King plug from NS Novelties. It is a simple device, as far as vibes go, but the shape is both elegant and effective. So, why is King on our shelves today?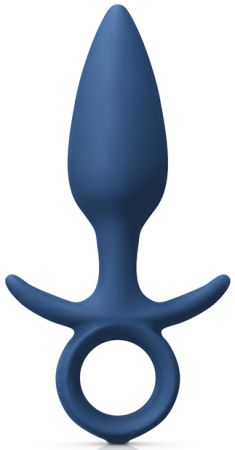 To start, King's surface is all silky smooth silicone. It is both sturdy and easy to sterilize, as any good anal toy should be. There are no undercuts to catch debris or pinch delicate skin. The motor is rechargeable with a combination of five speeds and five patterns. There is only the one button, but it responds smoothly and the ten settings aren't too cumbersome to cycle through. The motor doesn't pack as much punch as some other NS products, but it is respectable none the less (and most of the patterns are legitimately engaging, not just filler). King is also water resistant for easy cleaning, though I wouldn't submerge it in the bath tub.
Unique to the King is the use of the motor structurally. The silicone chosen for King is extra soft with a great deal of compression and flex. More, in fact, than is typically effective in a small-to-medium anal toy. Penetration can become challenging with a material that is both slender very soft. This is where the motor housing comes in. The ring, T stop, and waist all bend and flex with every movement, but the plug holds firm over the motor's solid core. This is more than enough to make insertion easy and provide solid fullness once in place. Take into account that it has both a ring and T for security, along with all the other attributes, and you know you have a winner.