Friday Focus: 07.30.21
This Friday, our chat is about the Companion panty vibe from Clandestine Devices. Companion's premise is very simple; it is a remote control panty vibe, the perfect pairing for almost any date night. It is silicone, fully waterproof, design emphasis on clitoral contact, shaped to snuggle into a pair of panties with a magnet to secure it in place. It has a travel lock and rechargeable motor, for a bonus. Like any tool from Clandestine Devices, it is also an example of aesthetic perfection.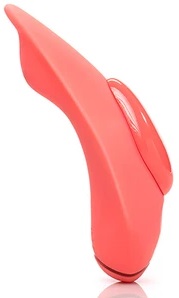 The first place Companion began to diverge from the majority of panty packers is in the remote. It comes standard with a sleek "fitbit" looking band that hides in plain sight rather than a handheld remote. (I do mourn that the band takes batteries and is not rechargeable like the vibe.) The unit is very easy to sync and the controls are totally intuitive. I only referred to the control instructions to make certain I hadn't missed any options. The power it offers is good, not astounding, but easily enough to get the job done. It is also very quiet. Under clothes, I could hear nothing, even when I was the one wearing it.
Where things got exciting was in actual use. I had it positioned as indicated on the provided materials to start. At this point I was deeply underwhelmed. The curve was just barely incompatible with my anatomy, the motor was held away from where it needed to be. It made just enough contact to make me irritated. I knew the power was there and that just made it worse. Here is the thing, though…instead of giving up, I did what I do best and decided to ignore what the instructions recommend. I flipped it upside down ("point" down, the main curve over pelvic bone, not the vulva) and it was perfect. Everything that is Companion came together for me and I knew we needed to have it in our cases.
I make a point of this because, people will need to experiment with it. Over the years I have noticed that some people can be strangely resistant to doing things that the box doesn't explicitly tell them to do. If you are reading this, you have the mindset that can conquer Companion. I know that not everyone is going to need to flip it upside down to get it the most out of it, but it it does require a sense of adventure. Companion is a great toy for people that want to play.