Friday Focus: 07.23.21
Warning, heavy personal bias to come! Today, I want to zoom in on the Insatiable line from Cal Exotic. Both have all the bells that come with top tier Cal, but with a twist. Maybe you can guess what that is going to be, but I am going to enthuse about them anyway.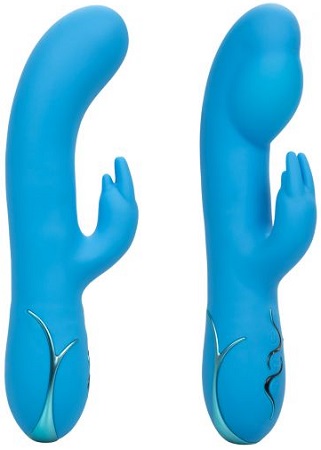 Starting with the obvious, both Bunny and Flutter are outfitted an one would expect in a luxury tier toy. Silicone and ABS construction ensure that the line is both sturdy and bio-compatible ensuring a long lifespan with nary a rash in sight. The motor is rechargeable giving 40 to 100 minutes of play time, settings dependent and comes to a full charge in two hours or less. The power that motor offers is a lovely bass purr, even on higher speeds. It's not Magic Wand strong, but it does offer a thump beyond most vibes of this size. All items in the Insatiable line come with seven vibration settings, accessed with a single button press. The series also has a dedicated On/Off button that doubles as a travel lock. Nothing crazy, but press and hold to get into standby, then get to selecting your speed. Another press and hold will go back to standby if in use, or lock if not. To make that simpler, the buttons light when in operation or in standby, so there is go need to guess if the travel lock is engaged. All of those fine attributes also come with a one year warranty through Cal Exotic. There is no way to go wrong.
Insatiable, however, has a hidden power. The third button, the one closest to the end, that one makes Insatiable inflate. In fact, it has four inflation settings, small, medium, large, and pulsing. The inflation it localized to the G-hooked end and cannot, by virtue of the pre-sets, be over inflated. What they will do, however, is offer a delicious fullness and, effectively, lock the toy in place. The inflation motor is both efficient and quiet, enough that even the pulse setting is not noisy. I cannot stress enough how exciting this is. They can pulse.
Either the strong deep vibration or the swelling tip would sell me on a toy line. Having both of those attributes in one item? With a company warranty? I have a hard time imagining a more perfect combination.