Friday Focus: 06.05.20
Today, I want to give some recognition to an update of an old item. We have had this rework in our stores for some time, but I've not had the chance to target it. This week, that changes. Today is for the Me2 Vibrating Probe from Cal Exotic.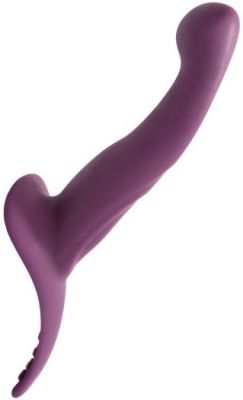 Let's start with the the things that are the same? The new Me2 has the same conservatively sized non representational shape as the initial release. The subtle contours of the shaft, with a hint of a bulb at the end of  the Passenger's side, is also largely unchanged. Vaginal, anal, or external, the easy curve is both safe to use and a delight to feel. It also shares the deeply textured, vulva hugging, flexible base on the Driver's side. Like the original Me2, the base is triangular, molded into a cupping curve with strategically placed patterns of ridges. Texture, I will remind you, that the Driver will feel with every thrust. Even with this unusual base, It will fit into any standard ring harnesses that has an open groin.
All of that said, what is new? That would be the rechargeable motor that is now housed in the base of the shaft. The casing of the motor does affect flexibility at the base, but many will find that a fair trade for the option of the thumping hum. Interestingly enough, the shape and flex of the remainder of the shaft works to amplify that vibration, focusing maximum bass at the bulb of the Passenger's side. The control button is hidden on the underside, near the base. It's not the most convenient spot if you want to change things up when in use, but won't get accidentally bumped. There are seven settings with an assortment of speeds and patterns to suit your moods and you get over an hour of play time at maximum power (two on the lowest). Me2 also offers the convenience of being fully submersible for both easy cleaning and aquatic adventures. Making all of that even more attractive, the motor's sound is well muted, resulting is a very quite toy. Wrap that in a three month warranty direct from Cal Exotic and you have a great new twist on an already beautifully designed tool.