Friday Focus: 10.18.19
Today we are looking over the Doc Johnson Vac-U-Lock Platinum Supreme Harness. When I started writing this review, I believed it would be short and sweet. By the time I had made my first draft, listing all of the attributes that I simply needed to cover, I saw that this wasn't going to happen. The individual parts are simple enough, but the execution is sublime.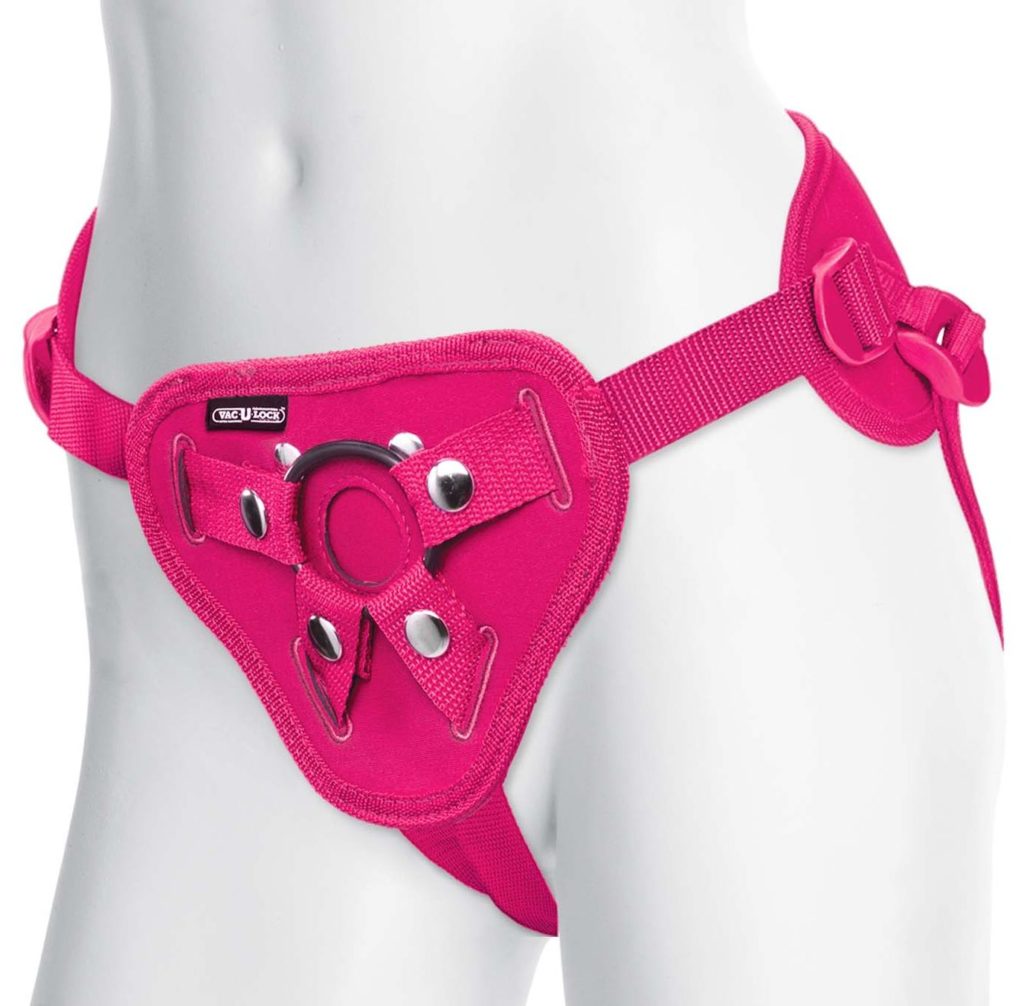 First, I want to touch on why this is my personal favorite style of strap-on harness, just in general. (Most of you have heard it before, but humor me.) The idea is common, one strap around the waist and two more straps around each thigh. The three points of contact make for very sturdy base at the same time that it leaves the Driver's genitals relatively free. This is brilliant if you want to pair harness play with separate stimulation for the Driver. The relatively open groin is also great if you want to strap-on with a body that already has a penis. And again, it holds your tools very, very securely.
Now what is going on with the Platinum Supreme in specific? The most obvious asset is the optional Vac-U-Lock plug. Certainly it works like any other harness, with any harness compatible dong, but that plug opens up access to the vast array of Vac-U_lock specific toys (and those that are compatible, such as The Realm line from Blush). Not only is this a valuable conversion tool, it is my first example of the real reason this harness stands out to me. The conversion plug snaps in on all four corners for extra security. Those snaps are located inside a fully lined pocket inside the base plate. That secure pocket seals shut with Velcro. Because that is obviously not enough, all of that is held by the O-ring of the harness (in the style that I menatined twice is very secure). So yes, it is snapped, enfolded, sealed, and held down by the structural supports of the base harness. Yeah. To say this harness is overbuilt is an understatement.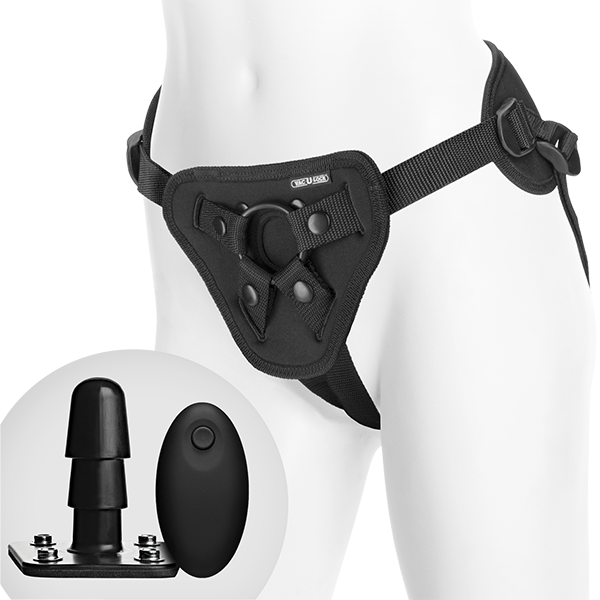 Every part of the Supreme is an example of exacting detailing. All of the hems are rolled and/or double stitched. The neoprene parts, like the base plate and the back brace, are hemmed in with sturdy bias tape as well. The whole show is done in nylon and neoprene to avoid comment allergens and add to ease of care and durability both. Then we have the wide and thick back brace that not only keeps any pinching straps at bay, it also adds a great deal to both security and fit. Straps won't roll or slip and this is extra true for larger bodies. As the straps let out to accommodate hips up to almost 70 inches, that is a valuable attribute. Even the slashes the straps are threaded through are hemmed over twice.
Of the two we carry, both have unique attributes above and beyond their body armor like fit and finish. The pink is, obviously, pink. Not any pink, but bright, screaming, this is not a color that could possibly exist in nature pink. The black, while more basic in appearance comes with a very special bonus. The Vac-U-Lock adapter plug vibrates. And it does this with the effortless convenience of a remote control. No need to fiddle in the glove-box, the driver or passenger are able to adjust operation at their leisure.
So, there you have my rambling spotlight on the Platinum Supreme Harness from Doc Johnson. It's versatile in function and body type. The materials involved in it's crafting are quality. The whole party is built like a bank vault and will serve for untold years with minimal care. All in all, this is an amazing investment for anyone interested in strap-on play. I chose it for the pink, but I love it for the care to detail.